comedy
Starring Cochin Haneefa, Jagathy, Harisree Ashokan, Kalabhavan Mani
Directed by K.K. Haridas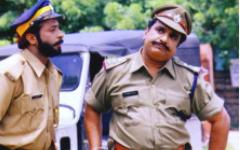 Well, it is certainlly hard to remember which was the last time Cochin Hanifa had acted in a lead role...or for that factor,the last time Hanifa had a substantial and major role.
But let us forget the past, for this talent is finally getting a movie with him in the title role of C.I. Mahadhevan 5 addi 4 inch.


It is supposed to be an absolute comic thriller of sorts where C.I. Mahadhevan is transferred to a village where the vilages are shocked by a bomb blast in the rather peaceful village.

When most of the others seem to be least interested in getting to the bottom of the incident, it is upto our hero to do the dirty job and find the culprits.

Well, to give the comic touch, the CI Mahadhevan is no smart brain himself but stumbles onto clues and manages to crack cases. So no matter what he does, coincidentally all works out for this man.



And with the comic talents of Jagathy and Kalabhavan Mani too keep Cochin Haneefa company, we can expect an absolute comedy movie.
Write in and tell us what you think of this movie