DOST is a movie that tells the tale of two close friends and how the love of one is put up for sacrifice for the friendship.
Director Tulasidas gets ready to bring the two young talents of Dileep and Boban together for the first time. This movie is incidentally a remake of a Prasanth-Simran tamil hit and it would certainly win the Malayalam audiences too.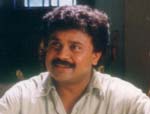 Dileep plays a rough young guy who does not mind crossing lines with anyone. And so even when he meets Boban, he too takes a dislike towards him. Boban on the other hand is a cool customer and eventually he wins Dileep's heart when Boban saves his life.
Thus an initial rivalry turns into friendship and they become the best of friends.
Boban in the meantime also falls head over hells over a girl (Kaavya Madhavan) and tries to win her love too.
Now it so happens that Dileep also have this hatred towards his elder sister for eloping with his one time buddy. And this hatred keeps eating into him every now and then. And in such a circumstance does Boban, find out that Kaavya, the girl that he is after, happens to be Dileep's younger sister.
And thus Boban gets into this complex situation where though he loves Kaavya, he is forced to discontinue the relationship fearing breaking the trust of his best friend Dileep.
The movie also features Jagathy, Kalabhavan Mani, Ambika, C I Paul and Bindu Paniker.
And with Vidyasaagar's music let us hope some good songs also come up to compliment this youthful love tale.
Write in and tell us what you think of this movie