Director Rajeev Kumar might have really bit the dust when his Bollywood venture RAJA KO RANI SE PYAAR HO GAYA turned out to be a total washout.
But he is ready with a new script and is on with his next venture VAKKALATHU NARAYANKUTTY.
The movie brings together Jayaram and Mukesh with Jagathy Sreekumar giving solid support to two leads.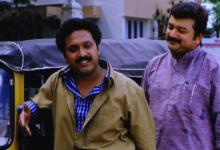 Narayankutty, played by Jayaram is the son of a retired clerk in the local court. And though since his childhood, he always was obsessed with the law, he could only manage to become a public servant. But that did not stop him from taking an active part in the courts. And for this his friend Advocate Mathew (Mukesh) comes in handy. And Jagathy also comes with the role of senior advocate Eeshwara Subramanium.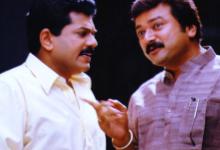 Lets hope the movie can do some justice to the talents of these three talented actors of the Malayalam industry.
The female lead shall be played by Manya (JOKER) while the rest of the cast also includes Siddique, Ganesh and Rajan P. Dev.
Write in and tell us what you think of this movie