What was Mohanlal's last big hits...Ravana Prabhu? Narasimham? Ustad? Araam Thampuran?
And what is common to all these movies...a larger-than-life image for mohanal and some fiery dialogues.
But even the most avid Lal fans are going to get tired of all these 'goona' images that Mohanlal is portraying on screen. And so though while everyone loves Mohanlal the actor, how many are going to appreciate this image for Lal is very uncertain.
At such a juncture comes Mohanlal's latest film - PRAJA directed by Joshi and with script from Renji Panicker. God save the world!
And so we have Joshi and Mohanlal teaming up in the forthcoming movie PRAJA which tells the story of Zakir Ali, an orphan picked up from the streets by an underworld don Mustafha Ali (Anupam Kher). The man grows to become a dreaded figure in the underworld business.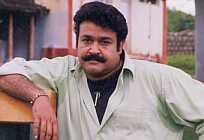 But now the man has given up the arms and the dons for a peaceful life in Cochin with his two trusted henchmen running a charity institution. But here too Zakir has new enemies in the form of businessmen, corrupt cops and politicians. and then even his old rivals come onto the scene to create more oppurtunities for Zakir to show us his rage.
And in between he also meets Police Office Maya (aishwarya), a relationship that soon blossoms to romance.
The movie unnecessarily drags on and on and begins to test the audience' patience. The movie will only do reasonably well just for the sake of the lead man Mohanlal.
The only real highlight of this movie seems to be the wonderful music from M.G. Radhakrishnan, but how many songs do you expect to sit through in this so-called action flick?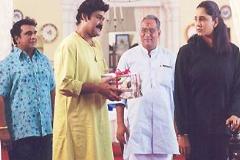 But a story that is so old as the Ramayana itself isn't helping anyone's cause here. And moreover, one has seen Lal before in underworld roles in movies like Usthaad, Abhimanyu, Aaryan etc has nothing new to offer to his fans or viewers of Malayalam films.

Sadly Mohanlal comes up with a decent performance though his tasks are much more than what he can handle. Trying to make him a superman doesn't pay off this time.

Aishwarya does a decent job in the female lead while the rest of them puts in average performance at least.

Script writer Renji Panicker has completely made a mess of things and one can say that with this movie, Renji Panicker has literally screwed his career in the industry.

Just a month ago we saw the disastrous DUBAI where Mammooty had to gab away at strange dialogues with English that even the foreigners aren't used to speaking.

And now with Praja, Renji Panicker gives Mohanlal pages and pages of crap in the name of dialogue that even Mohanlal have trouble delivering. Lal can deliver dialogues and we have seen him going non-stop in a lot of his earlier Priyan movies, but here even Lal cannot bring life into senseless dialogues.

Sadly Renji Panicker comes nowhere close to the class of Renjith who managed to give the characters an extra edge in movies like Narasimham and Ravana Prabhu. And a result, there is lectures and lectures of nonsense all fails to make even a whimper of impact on the audience.
Director Joshi might have done a decent job over here with what he got, but senselessly taking up rotten subjects like this will only get him such big budget flops and nothing else.
So I wonder will Joshi or Renji Panicker get financers to back any of their future projects in the near future. If Praja manages to push aside all the critical opinion and emerge as a winner at the box office, then well and good. But if not, then one could say Joshi and Renji Panicker better pack their bags and sit back at home.
But the truth has to be faced...Joshi is no Shaji Kailas, and nor is Renji Panicker as good as Renjith. The end result is two talents trying hard to be something else, and the result is nothing but disaster!