The year has just begun and already the Tamil industry is getting ready for another big movie bonanza but it is certainly a lot different this year. To begin with, the disastrous year of 2001 that just went by is still fresh in everyone's mind.
Last year, i.e 2001 saw no major blockbusters, only a few hits here or there.
So what is store for this year's Pongal with a flood of releases getting ready for release.
This is undoubtedly the biggest of the Pongal releases simply for the fact that it is a comedy flick from Kamal Hassan. Kamal always make a comedy after one of his ambitious projects and this time too after the disastrous Aalavandhan, he is back with a light quickie comedy. And mind you, his comedies over the years have never flopped.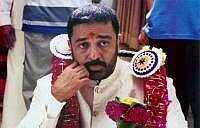 So while distributors simply are hating Kamal for the over-priced Aalavandhan, hopefully with this comedy, things will be back to normal. A hit, then Kamal will be smiling and so will the producers.
The movie also include Simran, Abbas and Sneha.
Even Simran needs a hit badly since her last two outings - 12B and Parthale Paravasum both were big disappointments in the trade circle. She needs this movie to click to redeem herself before her next movie releses - The Mani Ratnam one.
Next biggie is the typical 'masala' action flick from the so-called No.1 actor in the industry - Ajit Kumar, atleast that is what his price tag suggests. The movie is being sold at a higher price to the distributors than the Kamal comedy!

So if this movie fails to win the audiences, Ajit will find way down in the 'hot star' list and will subsequently have to lower his price and star tag to more ordinary standards.
The movie has Priya Gill as the leading lady.
KAADHALE SWASAM
A movie shot entirely in South Africa and starring a not-so hot actor Karthik and the fading heroine Meena. If the movie works, well and good for both the stars and if not, nothing is going to change much for them.
Newcomers Rachita and Arvind also joins the cast in this movie.
Father Bharathi Raja returns once again with his son Manoj in the lead role while Richa Pallod is the actress.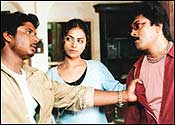 But while Bharathi Raja's last two movies, Taj Mahal and Kadal Pookal both failed at the box office, this time the man has roped in hit director Charan to do the magic job.
The music by A.R. Rahman is nothing but just reworked versions of his Hindi films, notable One 2 Ka 4.
Thankar Bhachan, an acclaimed cinematographer makes his entry into direction with a story he had written way back in the 80s, a role with Shabana Azmi in the mind.
Now years later, he thinks he found the right person to do the role in Nandita Das. Das is casted with Parthiban and Devyaani, with melodious music by Illayaraja. Sayaji Shinde also plays an important role in the movie.
This movie is undoubtedly the "dark horse" among all the Pongal releases. Could emerge as the grand winner!
VIVARAMAANU AALU
In these days where a Sathyaraj movie does its job only in B & C centres across Tamil Nadu, this new movie is also expected to do the same.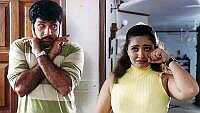 Sathyaraj and Devyani are the lead pairs. But the producers have wisely also roped in sex bomb Mumtaz too into the film which means some assured audiences for sure, and a whole lot of vulgar jokes too, I suppose, from comedians Vivek and Senthil.
After all now itself the leading ladies are being promoted in the movie as 'Viagra Mumtaz' and 'Niagra Devyani'.
KAMARASU
Every industry has a lucky mascot - a heroine who just proves to be lucky for the leading men.
And so if in Bollywood, it is Amisha Patel, in Tamil industry it is Laila, who seems to be having several hits, no matter which project she touches.
And so this Pongal there is a Laila movie, with Murali in the title role of Kamarasu.
The movie is directed by a deubtant Anbazhagan.
PUNNAGAI DESAM
This is another movie that could just surprise everyone among the Pongal releases. The movie is produced by R.B. Choudhary of Super Good Films who has roped in a whole lot of young faces for this flick.
The film stars Kunal, Tarun (of ANJALI fame), Sneha, Vijayakumar, Preetha and is directed by Shahjahan.
Music is composed by S.A. Rajkumar.
So 7 movies up in the race this Pongal, at a time when the box office is already being ruled by the Vikram starrer KASI and is threatened by the forthcoming Mani Rathnam movie - KANNATHIL MUTHAMITTAL. However this Pongal, the audiences will only get to grab the chartbusting Rahman soundtrack for the movie.
This Pongal there won't be Vijay or Vijaykanth. Nor will be there Surya, Vikram or Madhavan.
And so the Pongal looks like a big testing time for seasoned actors like Kamal, Karthik, Ajit and also for guys like Manoj and Murali.