Bharati Raja is certainly a happy man since his recent movie KADAL POOKAL managed to win acclaims and even a national award too. And now this man who usually produces and directs his own movies shall now come up with a movie which however is not directed by him. The director shall be the man with the midas touch, Charan.

After giving three hits in a row, including AMARKALAM and PAARTHEIN RASITHEN, it is a big honor for him to direct a movie produced by Bharathi Raja.
And Bharati Raja has also roped in music director A.R. Rahman to do the music for the movie. But once again the score is nothing but just tamil versions of Rahman's score from the hindi flick - One 2 Ka 4.
The hero in the movie shall be none other than Bharati Raja's son Manoj himself. And the heroine is a debutant Richa.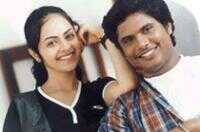 Now as far as the story line goes well, it is more on the lines of TAMING OF THE SHREW, with Richa playing the shrew while Manoj's character shall take care of taming this lady.
The rest of this cast includes Karan, Preetha Vijayakumar, Fathima Babu, Ambika, Jeyaganesh.