Thankar Bhachan, an acclaimed cinematographer makes his entry into direction with a story he had written way back in the 80s, a role with Shabana Azmi in the mind.
Though in the business for about 50 long years, Thankar Bhachan is one of those not much talked about cinematographers. But he was back into the picture thanks to last year's Bhaarathi.
Now years later, he thinks he found the right person to do the role in Nandita Das.Thankar Bachan has worked on the movie from scratch so he himself will be handling most of the departments of this film.
Shanmugham (Parthiban) is a happily married man with his wife, two daughters and an adopted son. And then we are taken into a flashback of his life.
The flashback takes us right back to his schooldays when he was madly in love with the beautiful village belle (Nandita Das). As a girl she was the most beautiful thing in the village, with a lot of admirers including the hero, Parthiban right from the time he was a schoolkid. But he was never able to express his feelings.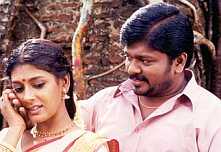 Years later, Parthiban returns from the city with a job and even married to Devyani, only to find Dhanalaxmi in a state of misery working as a laborer. He comes to know that her husband (Sayaji Shinde) had died and Dhanu was all alone with the kid with no way to earn money. Feeling pity on his old silent crush, he takes her to his own home, which however his wife is not so pleased with.
But Parthiban is hell bent on letting her stay in the same house.


Thankar Bachchan's movie is definitely off-beat and has some final commercial elements churned in. While the initial half is touchy and breezy, it is the second half that beings to get heavy on the viewers turning the movie into a sort of tearjerker.
The school romance and pranks is definitely nice and pleasing and keeps you amused all throughout.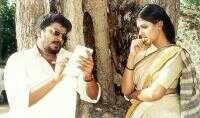 And then we have Vivek's comedy thrown into the middle, and though some of it might bring a laugh or two it does nothing much and rather is a nuisance to the main story track.
Thankar Bhachan really has treated this low budgeted flick with all-heart but then there are serious loopholes in the story, that sometimes puts his characters into doing or taking extreme steps. Maybe because he wanted the viewers to sympathize with his characters, or maybe it just happened.
it is definitely the credit of the cinematographer turned director that he has kept his characters simple and realistic.
Parthiban does a very good job in a mature role, one where he is not giving his wise dialogues like we see in many of his films. He easily gels into the silent character.
Nandita Das was obviously the right choice for the central character who brings to life the character of Dhanalakshmi. Devyani also does a decent job in her role showing the complex emotions that she has. Also acting kudos to all the child artists in the movie with everyone playing their roles effectively.
Illayaraja's music is definitely one of the biggest plus factors of this simple movie.
I would not say that this Azhagi is going to please every one of you. But then again Azhagi is a honest and well made film that is indeed beautiful in its own right!