srinivasa rao's
LITTLEJOHN
cast: Bentley Mitchum, Jyothika, Anupam Kher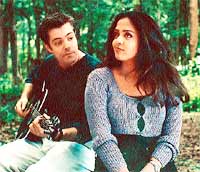 Director Srinivasa Rao is undoubtedly one of the most innovative and experienced of directors that the country have today. Best remembered for his tie up with Kamal Hassan to bring us some gems like Pushpak, Appu Raja, Avvai Shanmughi etc, Rao is once again ready with yet another project that promises a lot!


The movie, titled LITTLE JOHN. is being made in three languages simultaneously ((English, Tamil, Hindi) and there shall be no dubbing business like some of the usual south indian projects.

Little John essentially is a folk story put into modern times and brought out with advanced film making techniques including what promises to be spectacular graphics.

Bentley Mitchum the hero was so engrossed in this project that he actually did take the pains to learn Tamil and Hindi for it. He even has sung a song in Hindi.
Bentley, already has done quite a few major Hollywood flicks and numerous television shows and serials but immediately took on this project as it came along because of the fascination he has to Indian culture. He was in no way to let this experience slip away from his hands.


Keeping Bentley company is Jyothika (Naghma's sister) who after a rather damp start in Bollywood with Priyadarshan's DOLI DAJAKE RAKHNA has from then on moved to Tamil movies and is already one of the top most heroines there already and ever since she won the best Debut award for Vaali last year, there is no looking back for this young star.

Also featuring in this movie in an important role as the Swamiji is the versatile Anupam Kher.


The story is about a young American lad who comes down to India to do some research on the country, its culture, its people and lifestyles. Here he meets an Indian girl, Vaani who befreinds him and helps him out in his research. John's work takes him to a remote temple in South India famous for its miracles.
And it is over here that he meets a Swamiji in a nearby ashram, who tells John a lot about the powers and the evils that go hand in hand with this temple. John also comes to know of a certain 'mookuthi' (nosering) that has certain miraclous powers and also about an evil force 'Bhairav' who plans to steal this mookuthi. This is because it is essential for a grand ritual to be performed on a full moon night.

Eventually Bhairav does steal it only to lose it when it slips off and falls into an anthill.

Meanwhile, John is accused of this theft. But he manages to escape from prison and heads straight to the Swamiji who helps him out by making him a six inch man. Thus you have John going about the rest of the movie as a short tiny figure and he has to reach his friend Vani and also stay away from Bhairav as he reclaims the mookuthi.

This fantasy movie might not be exactly the right cup of tea as far as Indian cinema is concerned. All previous attempts to bring out this kind of a fantasy cinema have always met disastrous results. Remember Ajooba, Chandramukhi etc. Such over-the-top subjects have always been something hard for the Indian moviegoers to digest.


However being the kind of director Rao is, we can expect that he shall put his heart and soul into this one. All fingers are certainly kept crossed. Let us hope nobody ends up burning them!