Kamal has some problems to sort out when it comes to screenplay. He did get it wrong when he came up with an ambitious HEY RAM and now in this modern thriller too, Kamal has got things equally wrong and right.

But such mistakes are enough for the entire critic community to throw brickbats at a man, especially someone like Kamal.
But Kamal is still Kamal - the best actor the country has ever seen!
The movie is about two siblings, Major Vijay and a rough and tough Abhay.
Vijay is a commando officer, highly honored by the Army too. And he is all set to marry his NDTV newsreporter girlfriend Tejaswani, who is already pregnant with his child. However we soon come to know of the fact that Vijay does have a twin bro locked up in the asylum. Inspite of repeated requests from the family to release him, the authorities feel that Abhay is unstable and dangerous to the society.
And when Vijay and Tejaswani goes to meet Abhay, it soon turns out to be a big mistake. For Abhay believes Tejaswani is yet another form of his evil step mother and she is nothing but a curse in Vijay's life. The couple returns home disturbed and goes on to marry.
Meanwhile Abhay escapes from the asylum and begins to create havoc in the city and in the newly wedded couple's life. Abhay is hell bent on getting Tejaswani and kill her, while Vijay stays ever alert and protect his wife and unborn child.



Something is definitely wrong here and I can see it. An actor (known for pushing the limits) and the makers try to do something grand, different and bold, and down the line things go wrong. But for some reasons unknown everyone has hopped onto the wagon and taken the oppurtunity to criticize both the movie and the actor Kamal.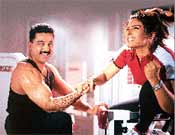 ABHAY is a perfectly average movie, but what makes it a must watch is the simple fact that it is different, bold and definitely a step forward as far as Indian cinema is concerned. Maybe not exactly in the storytelling department, but as far as technique and fantasies go, this is.
The first half is excellent according to me. The movie intially grips you and the later scenes where we have Abhay under the influence of drugs is extremely appealing and the camerawork and the special effects team combine to create a different world, atleast as Abhay sees it. The mentally deranged man shows a world inspired by cartoons, and evidently it is animation that is used to push certain scenes ahead. The only time it slows down is when Abhay has a rain dance with a movie star Sharmilee (Manisha), and then Abhay himself goes "I thought it was a dream sequence" which is exactly what he is trying to prove - that narration just slows down when you stop for unnecessary dream sequences.
The movie is not for the faint hearted. The movie definitely rides on the darker side, with the deadly trio of drugs, sex and violence ruling the proceedings in the first half, followed by a disturbing childhood in the second. Using the animation was definitely the right thing to do since who would want to see Abhay bashing up females left and right. But the animation could have definitely been bettered. Then even in his deranged mind, the way the characters (doctor, his real mother, only the head of his victim etc.) crop up and communicate with him is also commendable thinking and execution.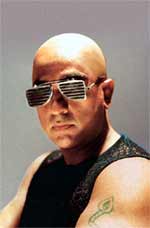 The songs from Shankar-Ehsaan-Loy team might not be great, but the visuals are innovation at its best. Its not the usual dance-on-the-hilltops sequences like every other Bollywood movie, and that is makes you sit and watch the songs.
And the first half winds up after two hours...setting the right tone for a big finale.
But that is the end of this joyride and if the viewers haven't found it any good till here, I suggest they walk off....for come the second part and everything rumbles into pieces...more like what we saw happen with the WTC towers .
The second half gets nothing but boring and stupid, scene after scene. Looks like this is exactly where the director Suresh Krissna really takes charge of things. The half starts off with a Republic Day parade, where we see a wanted criminal like Abhay running around the Defence Personnel zone. Where the hell is the security?
Then we are treated to a long and boring flashback where we are shown the childhood which made Abhay what he is. The problem over here is that it simply fails to invoke any interest. It would have been better if the director had sliced it up and brought in in bits and parts throughout the narration, than solidly in one go. And secondly, the step-mom does not turn up to be as wicked as one would expect.
Then there is a car chase sequence which gets loud and beyond sensibilities, in typical Tamil movie style. And that all comes together in a climax set in a hotel, where both the brothers have a go at each other. Jumping ridicuosly over hot air balloons is not what one would call daredevil action sequences. And then the climax puts forward another big question- Is Abhay trying to save his brother or kill him?
Kamal Hassan once again is in top form. But it would have been better if he had just played Abhay and given the other character to any other actor. And then most of the critics would have rerviewed this same movie in a more unbiased manner. Raveena does a great job in a role that is better than the ones you get in a Govinda or Sunny Deol movie. Manisha is what she is supposed to be- a special appearance.
Technically the movie is A grade!
But an excellent first half is made to look average thanks to an equally ridiculous second half. Still the movie is worth a watch, and certainly not as horrible as a majority of the critics make it sound.

ADDITONAL NOTES: Well, a good review should avoid comparing a movie with other movies. But I can't resist! Most of the critics have gone ga-ga over ASOKA when the movie was an utter bore and one has to sit till the last one hour to get treated to anything substantial. And the so called first half is nothing but your everyay Bollywood romance.
On the other hand the first half of ABHAY is certainly something different, visually and never seen before on Indian screen. It is something as wild as "Hannibal meets The Mask" kinda thing. And if critics go bashing such experimentation, I think Bollywood would never be able to come out of the pit that it is stuck in.
Atleast ABHAY met my expectations more than ASOKA!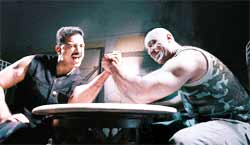 WHAT THE CRITICS HAVE TO SAY
TOTAL REVIEWS : 8
POSITIVE: 0 MIXED: 3 NEGATIVE: 5


A movie where the viewer has no clue as to what is happening. The narrative keeps you in the edge of the seat in the initial reels. But the moment Abhay attains freedom, the film sinks to depths from where it cannot be salvaged.
On the whole, Abhay has nothing to offer to the masses or the classes. Poor!
read the negative review at Indiafm

Production values are A grade. Special Effects mindblowing. Kamal Hassan's characterisations are as usual, perfect. As a genuine Kamal buff, it is sad to see the genius meandering this way. A genius meandering is always interesting, but for three hours. Pul-lease!!!
read the mixed review at Sify

Like countless other gizzmy heavy movies, ABHAY falls with a mighty thud proving yet again that nothing can substitute a good storyline and great acting.
Should one see the movie? Yes. For the sheer technical wizardry of the backroom boys and for those with a dark sense of humour, to see a demigod fall. Afterall, it isnt' often that Kamal Hassan fails.
read the negative review at Rediff

Material like this provides immense fodder for a filmmaker's imagination but it also brings with it the attendant danger of fetching a maker a lot of flak if he fails. Unfortunately, Abhay, while interestingly novel and convention-shattering in several places, doesn't really work as a whole.
read the mixed review at TNT Movies

'Abhay ' comes along, making you feel that talent cannot make up for loopholes in direction (Suresh Krissna) and screenplay. Sadly, what could have been a gripping look into a cunning, demented mind ends up for the most part as simply relentless mayhem.
read the negative review at NaradOnline

The film is so mad that it seems that the mentally challenged Abhay had made it. The subject is very silly. The script is bad and the direction is very poor. The film should have never been made in such a manner. Kamal Haasan should not have played both the roles.
read the negative review at Radiosargam
Padmashri Kamal Hassan's Abhay turns out to be a mixed bag. A mixture of pioneering experimentation in Indian films and a narcissism too heavy to take. And it leaves you with that feeling of a perfectly good film gone over the top… yet again!
read the mixed review at B4U
The direction of the film (if you can even term it that) is totally awry, in keeping with the inane story and insane ambience that normally paints a Kamal Haasan film of today. Having said all this, there's little else to add besides, watch the film.
read the negative review at Cinetalkies