Agreed Bhagat Singh is a national hero who seem to be forgotten amidst the bigger names like Mahatma Gandhi and Jawaharlal Nehru. But Bhagat singh is a strong name in the Punjab sector...and the film industry is doing nothing but cashing in on that sector by making a movie about their national hero. The reason for all this is the super-success of Sunny Deol's Gadar which was an eye-opener to the industry. Sunny's film single-handedly took over the northern belts.
As a result, what we have is not one, not two but nearly 5 movies on Shaheed Bhagat Singh.
The two biggies among them will be however Ajay Devgan's Legend of Bhagat Singh vs Bobby Deol's Shaheed.
The movie is an indepth look into the life of one of the heroes of the Indian freedom struggle - Bhagat Singh. Bhagat Singh was a young martyr at the age of 24, and is still remember as a symbol of courage. With the movie, we try to get a better understanding of the man who rose single-handedly revolt against the British cruelties.
Raj Kumar Santoshi, burned his hands again with the big budgeted Lajja. However this time he hopes things will not go wrong with this venture, Legend of Bhagat Singh.
Ajay Devgan shall be playing the lead role of Bhagat Singh. This will be yet another career high especially after his performance this year in Company. Other cast members include Sushant Singh, Farida Jalal and Raj Babbar.
Newcomer Amrita Rao plays the female lead in this film. But one cannot expect her to have much scope in a film like this.
But don't expect things to be really smooth for this flick.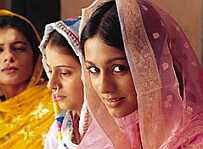 Because on the other corner, we have Dharmendra, Sunny Deol and Bobby Deol coming up with their own version of the legendary revolutionary. And mind you, these stars have a bigger fan following in the Punjab and other northern belts.
But the Raj Kumar Santoshi version, produced by Tips Films, might have an edge in the metro centres hopefully. And a lot for that depends on the music score which is scored by A.R.Rahman. This certainly shall strengthen this film's prospects.
Be sure to watch this space for more as the music gets ready for a release any time soon.
Now the question is which Bhagat Singh will win the audience's heart - Raj Kumar Santoshi's or his one-time buddy Sunny Deol's ???