Raj Kumar Santoshi is one of the most sensible and able directors we have in the country today, no doubt with that. But there is a problem - he has the idea, but his execution lacks the sting.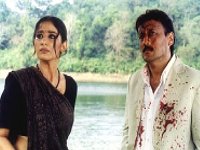 And when he comes to making movies, he does dream big and right. He made an ambitious no hero-western style movie with CHINA GATE, then a movie on espionage with PUKAR. He even produced DOLI SAJAKE RAKHNA, directed by another talented man Priyadarshan. But then that too went all wrong.
And now the man brings us to a woman oriented theme where he tries to show us the way Indian woman are being treated actually contrary to the 'devi' like image we like to display.
And his inspiration? Well, a newspaper article about how a Dalit woman was torched to death after his son fell in love with a upper-caste girl and eloped.
And when the subject is not your entertainment stuff, Santoshi ropes in all the big names possible to make the movie appealing to the masses.
THE STORY
Santoshi tries to convey his social messages with the help of three distinct stories, each being interlinked with the help of the central character, played by Manisha Koirala and names all his lead female characters after Sita - Vaidehi, Janki, Maithili, RamDulaari. Smart, indeed!
Manisha plays the role of Vaidehi, a frustrated wife of a rather oppresive NRI businessman Jackie Shroff. And while her husband dances around with other women, Vaidehi packs and leaves the States and comes back to India. Later when her husband comes to know that Vaidehi was pregnant, she tries to get her back to States. But Vaidehi soon realises that all he wants is the baby and after that Vaidehi is history.
So Vaidehi runs away and first she lands up at a marriage ceremony where Maithili (Mahima) is getting ready to tie the knot. Here she also meets a small time crook (Anil Kapoor). But son we find how the groom and his parents are only interested in the dowry and not in the bride.
Next stop. She meets a daring drama artist Janki (Madhuri) who is carrying a child out of wedlock. But her boyfriend begins to suspect her thanks to the cunning theatre owner (Tinnu Anand).
From there she then moves on to a village in Uttar Pradesh where she meets a Dalit woman Ramdulari who takes the attempts to make the women of the village self-dependant. But trouble lurks when her young son falls in love with the daughter of the upper caste thakur (Danny Denzongpa).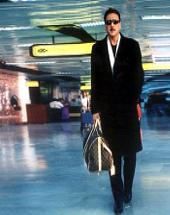 Santoshi has done a good job trying to bring the various storylines together. If one has seen TRAFFIC you will have some idea how to do it with perfection. But the problem comes with the first half, which only showcases the first episode - Maithili's marriage which is also the weakest of all episodes. It is long, tries to be funny when it is not, and even worse, very very predictable. As a result the first half is a big drag right from the first scene where we see a worried NRI housewife Vaidehi.
The movie makes its biggest mark when the character of Madhuri Dixit comes into the picture. And watch the whole episode and you will know why Madhuri is one of the finest actresses of all time. And then the big statement she makes, trying to question the Ramayana and the fire-test that Sita had to give, is undoubtedly the best moment of the film.
Then we have the third and final episode, the one that really sparked off. The tale of the Dalit woman and her tragic end. Rekha comes out really strong in her role and she is equally well supported by the villains - Danny and Gulshan. And while Santoshi tells you that, he introduces another strong character - that of Ajay Devgan. Though this part boasts of lots of violence, it ends up above average.
But like in most Bollywood movies, it was so sad to see the climax ending with a big speech from Manisha and hoards of women just coming in with their sandals to strike down the villain. That was a big disappointing piece.
Overall, Madhuri was brilliant and Rekha powerful. Ajay Devgan gives a stellar performance while Mahima, Anil were just about good enough. Jackie had nothing to do, just running around and going 'damn' every time his wife gets away.
And Manisha, in the binding role of Vaidehi sails through the movie. Though not her best, one of her more important roles of her career.
Anu Malik's music wasn't that great but still retains some magic thanks to special appearances from Urmila and Sonali. And then the wonderful dancing Madhuri in "Badi Mushkil".
Dialogues kept getting better and stronger as the movie progressed, the pace picks up well in the second half.
F I N A L V E R D I C T
So where the does the real problem lie?
That is in the fact that Santoshi tries to tackle every problem that the Indian woman faces in just one go. And thus disoriented stories. Not something that the Indian audiences are gonna be pleased to accept. And then the extremely boring and predictable first half adds to the woes. And then like most Bollywood movie, it takes a guy to teach the baddies a lesson.
But at the end of it all, it still is a decent watch. At times the message also does come out. And Santoshi did have the guts to come out with what he wanted to. So let's forget the boxoffice returns, shall we?
But then again despite all the stars, LAJJA is nowhere close to one of the best women-oriented movie of all time - DAMINI.