A Bollywood film that just stops for one song?? A Bollywood film where there are no heroes and villains?? A Bollywood film that is grim, dark and as realistic it can get?? A Bollywood flick where there is no running around the bushes?
Well, that is what Ramu's Company is in a nutshell. This is how well a movie can be made within the commercial framework of Bollywood. And there is no better man than Ram Gopal Verma in the industry for that today!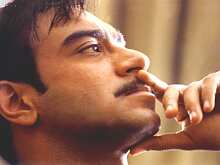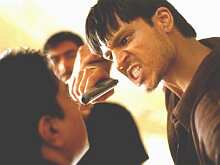 COMPANY is yet another tale of underworld dons on the lines of SATYA, this time loosely based on the Dawood-Chota Rajan clashes.
Chandu (Vivek Oberoi) is a new recruitment in Malik (Ajay Devgan)'s crime organisation. But before you know it, the new kid's guts and vigour makes him a hot property. Soon Chandu is Malik's most trusted man and the relationship is cemented with Chandu saving Malik's life in a shootout.
Meanwhile Malik takes over the underworld business and together with the help of Chandu rises top be all-powerful causing headaches to the cops - headed by Commisioner Sreenivasan (Mohanlal).
Malik, Chandu & co flees and sets up a new base at hong Kong from where they continue their business. But a misunderstanding crops up that makes Chandu turn against Malik, and soon we find both gunning for each other's head.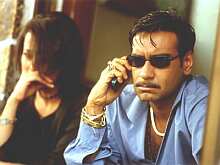 The film belongs to Ramu. Besides that, to find which actor stole the show is a senseless thing to do. It is not about who steals the show over here. But more interesting to note in here is how each and every character is played so beautifully by the respective actors. No actor is allowed to run away with the limelight. Just when you see that this character is emerging to be powerful, Ramu breaks off and passes the baton to another character.
Obviously we have Ajay Devgan perfectly cast as the brooding, thinking don. And even more surprising the wonderful performance that has been put in by newcomer Vivek Oberoi. Certainly one of the best debut performances ever. And with Vivek being signed by some of the biggest of banners already, a new star is born!
Both together set the scenes on fire! But wait...that is just the beginning of the splendid performances.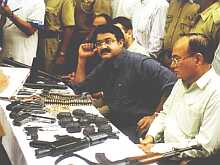 You are "simbly" not going to forget Kerala superstar Mohanlal's debut performance either. Lal, who is stuck doing goonda-don figures down south, for a change does a great job of the cop. But what is more interesting is that this cop character is not the stereotype Bollywood officer. He does his job without the gun or the temper, only with a wide smile. But not all are going to be happy with the thick South Indian accent. But hey, we have been subjected to Punjabi, Mumbaiya, Bengali, Bihari accent all through out. So why make a fuss out of a new accent in town - the 'south' accent!
The females all too put in a good show. Manisha seems perfect opposite Ajay, while Antra Mali has certainly improved as an actress. Seema Biswas is at her usual best. Also full marks to Akash Khurana in the role of 'Pandit'.
And rest assured, the movie was not going to be the same without the contribution of any of these above-mentioned names. So nice to see a host of underplayed performances in one film.
Urmila Matondkar puts in a sporty cameo when the titles roll, and then we have Isha Koppikar doing a sizzling show in the item number 'Khallas'. I also couldn't help but laugh at the scene where Neeraj Vohra does a spoof on Karan Johar and K3G! Tongue-in-cheek and some smart wit dialogues throughout the film also enhances the movie a lot.
And when making movies of this genre, Godfather is the most looked at upon film. But here I believe that Ramu's inspiration lies in Soderbergh's Traffic than anything else. Both the movies possess the same mood. Anyhow Ramu has milked out the best from the underworld sagas. If Satya was aimed more as a crowdpuller, Company is a more sophisticated look at the underworld.
Sandeep Chowtha is certainly one of the most under-rated music directors in the industry, but the man does a wonderful job with the background scores. However it should be noted that at times it was a bit too loud, muffing up the dialogues. Hemant Chaturvedi does a good job handling the cinematography.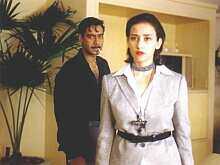 However all's not well either for this Company. Watch how a good movie is going to suffer in the hands of the Indian audiences....
The first half is really long, and the interval comes up at a point which would look ideal for the climax, and Ramu could have given us the sequel later. But this is no Hollywood to try such daring experiments, is it? And come the second half, and it is just one long elaborated climax.
There are no comic or light scenes like what we saw in Satya or Jungle, making things a big too heavy. Furthermore, no songs except for "khallas". So don't expect much of the frontbenchers to appreciate the flick.

Secondly, too much bloodshed and violence, and the life of underworld figures will keep ladies and family audiences also at a distance.

Then what we are left is with the middle-class and the elite group. But even for them the movie might end up as a glossy documentary more than anything else.
So in short, Company might be winning great reviews from individuals, but this movie will not find the ride easy at the box office after the grand openings. But if the box office collections prove me wrong, no one will be happier than me. But thumbs up for Boney Kapoor in backing a film like this. And Ram Gopal Verma and his team can be happy about the fact that this final product is one of the best of its kind.
But nevertheless, a good cinema deserves the kudos and without a doubt, Company is the best thing to have happened to Bollywood since Lagaan. Its to-the-point, well executed, well acted out and above all, uncomprimising!
But with this also starts a raging debate...which is better Company or Satya?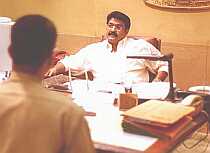 THE PANEL ROOM
Positive: 4 Mixed: 1
| | |
| --- | --- |
| 3 / 5 | With all its yups and downs, Company is still eminently worth a look-see. But certainly don't expect another Satya or a masterpiece |
| | Overall, I would say Company is a good movie. But most of the time it sends the wrong signals: that crime can be taken casually till it gets back to you. |
| *** | COMPANY is amongst Ramgopal Varma's finest works. A stylishly narrated tale, the film will win plaudits and reap a rich harvest at the box-office for its hard-hitting content. |
| **** | Company is, indeed, a rare Hindi film. For the quality of the execution, for the most part, matches Varma's avowed intent. |
| | Those expecting much more than Satya in director Ram Gopal Varma's second underworld-based flick, Company won't be disappointed. The director has once again made a film that sure to go down the annals of Indian cinema as a masterpiece. |