One must be thankful that there are this crop of new directors who come up with fresher items rather that the same masala kind of Bollywood movies.
Hanshal Mehta also gives us a similar refreshingly charming and different kind of a movie in his debut movie Dil Pe Mat Le Yaar. This is one of those movies that try to show the realities of an everyday life, but in a rather unusual manner.
The plot of Dil Pe Mat Le Yaar revolves round the character of the good-hearted Ramsaran Pandey (Manoj Bajpai) who migrates all the way from Jaunpur to Mumbai and manages to get a job as a mechanic. His simplicity and honesty, however, helps him conquer hearts and friends, including that of a press reporter Kaamya (Tabu).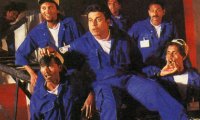 Kaamya is so moved by the honesty and simplicity of Ramsaran, that it inspires her to write articles based on his characters that shows great hope amidst the corruptness of the city. Naturally the articles also reaches the hands of director Mahesh Bhatt (playing himself) and he approaches Kaamya to write a script for a movie to be based on Ramsaran's character. Thus, you find Kaamya spending more time with Ramsaran and getting to know him better.
But what Kaamya fails to know is that Ramsaran is deeply in love with her, and he is simply scared to express his true feelings. But as the feeling keeps growing with every passing day, Ramsaran finally tells Kaamya about his love for her. However, everything does turn out well as he expected for he faces rejection. After all, being a journalist, Kaamya was only fishing for a story and nothing more. Sadly, Ramsaran ends up thinking that the rejection is solely because he is not wealthy and this complex drives him to ideas to make a couple of quick bucks.
Once again Bajpai proves why he is the only actor left in this industry flooded with stars.
One needn't waste time marveling the talents of Manoj Bajpai for he is as splendid as ever. However, the interesting part is that the role is a complete take off on the role that literally made him a household name- that of Bhiku Matre. He sheds all those rough and tough attitude to get into a completely opposite character. Full marks for experimenting.
Tabu, too doesn't disappoint in the role of the journalist, which mind you, isn't like the usual sterotype ones we are used to. For this one, is as self-centered as one can be. The director certainly takes a brave step by not potraying Ramsaran's "dhak-dhak' as the usual lovey girl next door. Another point to be noted is that she doesn't play your steroetype journalist who always stands for the truth kind. However, with roles like that of Maachis and Astitva, this was just a walk-thru-the park kinda role. Bajpai and Tabu are aptly supported by a rest of the cast.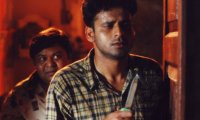 But another man, Saurabh Shukla needs to be praised on two counts.
Firstly for the script that he has put up which is as humble and down to earth as the character of Ramsaran. Secondly, for the splendid portrayal of Gaitonde, a small-time videographer, who is such a treat of a character in the movie. He depicts the role of the helpless husband who is forced to cheat even on his best buddy to please his wife, is done with great conviction.
The movie is one of those dark comedies that try to tell a story without making such a hue and cry about things and events. And the director manages to do that, sadly, only to an extent. For all the fun, and laughter of a simple Mumbai-lifestyle is thrown away in the second half, and the dark comedy becomes more darker and less of a comedy. One wished the director had resorted to making things simple and carefree.
Another could-be drawback is the fact that the whole narration is very much mumbai-ish which could make the movie damp in other parts of the country. Also the second half takes a rather harsh look at deceit and betrayal, which makes no man worth trusting.
However full marks to the team of Dil Pe Mat Le Yaar, for making a decent attempt at telling a decent story in a decent manner.
Certainly, nothing flashy over here, but it is down-right straight from the heart kind of movie. Therefore, it is one of those movies, that some might cherish it while some might not be that impressed. The movie might end up offering different things to different viewers. For some might end up liking the pleasing first half, while the others the rather harsher and depressing second half. Even the climax doesn't seem all that justifiable, and it just looks like The director added it to increase the commercial potential of the movie. But at the end of it all, it is just personal taste.
Dil Pe Mat Le Yaar, in the end, still stands out as a commendable attempt and definitely worth a watch...
...at least for the sake of those great talents of the powerhouse cast like Bajpai and Tabu. For one certainly does not get to watch a different movie such as this every other time.