In the tinsel town of Bollywood, female-oriented movies can't get any better for you than one like this.

Mahesh Manjrekar makes a bold statement against the hypocrisy of the Indian male society where their affairs can always be pushed off as casual flings while if the female ever ends up in one such affair, life spells doom for her. The former always ends up being forgiven and brushed under the carpet while the latter remain a crime so unforgivable. And thus, bollywood screens have seen several instances where the male is shown bringing home his flings, and the female never given that freedom, even in reel life.

And it is this very double-faced approach of the society that Mahesh Manjrekar tries to question in Astitva, the bold story of a woman trying to find her true identity.
The woman, Mrs Aditi Srikanth Pandit, to begin with, is no doubt a dedicated wife and mother. And like all Indian woman her world is her family, and her happiness and sorrow is in the laughter and cries of her husband and son. And thus she moves on in her life as it takes her. And she does so and manages to carry off 27 years of blissful married life.
However things in this home takes a rather unexpected turn because of a will of a musician that comes to Aditi. Well, this long-forgotten singer (Mohnish Behl) was once Aditi's music teacher. Thus this legal document brings sleepless nights to Aditi's husband who is forced to dig deep into his diary writings. And from it, he finds that the only male that Aditi was close to at the time of the birth of their son was this music teacher, he suspects that the child may not be his. His nightmares do come true when on confrontation, Aditi confesses and comes out with the truth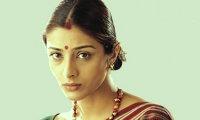 And so you have the husband completely broken down, and in no mood to forgive anyone. He decides to punish his wife with a divorce, after a round of humilastion of course. And here, the wife is forced to shed her title of 27 long years to seek her true identity.
A magnificent display of talent from Tabu in a character that is a treat to watch, certainly the most powerful female character since Meenakshi's DAMINI.
Your typical housewife has been given a fresh life by Tabu. She plays the complex role to the best of her abilities and one cannot deny that. So intense and powerful is her performance, that she is already a strong favourite to walk away with most of the awards this year.
The supporting cast must not be forgotten in the fiery display by Tabu. Each of the supporting cast puts up a dedicated and inspired performance, especially Sachin Khadekhar. Sachin has always proved his acting mettle in those numerous TV serials, but however, he has got few chance to do so on the big screen. But here, he has got such a author-backed role of a male chauvinist, and he does full justice to it.
The songs may not be your fast and catchy ones, and even not your elaborate Swiss mountain shots but they certainly blend with the movie so well, that they add a touch of beauty to the movie.
This movie like the other release of this week, Dil Pe Mat Le Yaar , also comes straight from the heart and does not step back when it comes to raising the bold issues that persist in the typical Indian society. The movie with its bold theme, and equally powerful characterizations shall leave the viewers breathless for this is very much unusual to normal filmi characters you end up seeing onscreen.
Those who thought Manjrekar's debut film Vaastav was powerful, wonder what they would think after Astitva. For Manjrekar puts in all the fiery grandeur required into the movie to leave you breathless. Certainly with the number of movies he is working on currently, one would expect the director to lose his finesse and focus. However, those kind of logic does not seem to affect Manjrekar. For he seems to be knowing exactly what he wants from reel one itself. And this movie is said to have been shot under 30 days! Phew!
Nothing short of full marks needs to be given to Mahesh Manjrekar for coming up with a different and gem of a movie.
Manjrekar does not succumb to the pressures of commercial film-making and leaves his movie clean and uncluttered, not resorting to the usual dance and song numbers, and instead using the songs to the right effect to move the story along. Also wonderful narration on his part, with the clever usage of the flashbacks, and characters to weave the story. Not to forget, wonderful cinematography also lends a much needed helping hand.
A must watch movie that gets your head thinking, at the end of it all. Now how many Bollywood movies can do that?