Release amidst much hype, the Roshans come with their follow up to their runaway hit 'Kaho Naa Pyaar Hai. This time it is Koi...Mil Gaya, billed to be India's first sci-fi flick.
Rakesh Roshan takes the one of its kind ET theme, and wraps it up with his usual formula and gives it a treatment that is VERY Bollywood-ish - and without a doubt, the film works in the name of 3-hour entertainment. Filmi, very filmi!!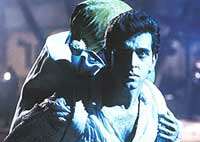 Sanjay Mehra (Rakesh Roshan) is a scientist hard at work trying to establish some kind of connection with alien lifeforms. And he even gets some success when the aliens do respond to his "om" signals.. However things end tragically when Rohit and his wife meet with a car accident. Though his wife Sonia (Rekha) survives, Sanjay dies in that accident. And from the effects of that accident, Sonia's still unborn child Rohit suffers some severe brain damages.
Sonia now only has her son to hold on to. Her son Rohit (Hrithik Roshan), however being mentally challenged, has to face the ridicule of many around him. But he does have a bunch of kids with whom he regularly tags along. He also finds a good companion in Nisha (Preity Zinta) who after the initial misunderstandings becomes Rohit's best pal. Obviously that means he gets into more trouble with the local bullies led by Rajat Bedi.
Things do take the sci-fi turn Rohit and Nisha decides to play around with his papa scientist's old computer which strangely emits the signals to the aliens. What follows is a a spaceship landing up in town and while the town folks stay stunned in awe, the spaceship disembarks leaving one alien behind.
Rohit discovers the alien in the woods, and befriends it naming it 'Jadoo' and magic it does bring into Rohit's life giving him powers and enhanced skills that help him to deal with the world around him. But everyone else is on the search for the strange alien life-form and Rohit soons discovers that he has to protect his friend before it is too late.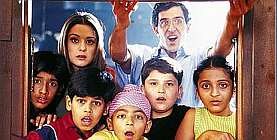 Hrithik is back.....and this time again he carries the movie entirely on his shoulders. He puts up an act worthy your penny and gives the character of Rohit flesh and blood. He has really worked hard for this role of the mentally challenged and it pays off. His talent is out there for everyone to see. This is undoubtedly a one-man show like Kaho Naa Pyaar Hai and definitely a performance that can help people forgive him for that overly loud show as Prem in the dud Main Prem Ki Diwani Hoon earlier this year.
Preity Zinta is always someone you can trust to come up with a good show and she does the same once again. Playing her bubbly self, she has no problem taking the limelight in a scene or two before giving it back to Hrithik for the rest of the show. She is at total ease and seems to be having just as much fun as the cast of kids that has to been roped in to play Hrithik's buddies. None of the kids overact thankfully and everyone plays to their age.
Rekha plays the usual mother role with the kind of screen presence that only she can command. And Rakesh Roshan puts in a decent cameo as the father-scientist. Rajat Bedi, Mukesh Rishi and Johnny Lever all their usual self.
So that is the cast...but what about the movie? Hmm, now that's a good question...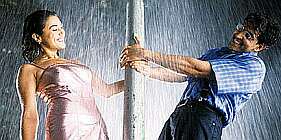 The music score from bro Rajesh Roshan is definitely quite good, and is even better in its visualization package. The choreography and most notably, Hrithik's scintillating moves all add to the magic. The songs are definitely what gives the movie that extra edge in the name of entertainment. Technically too the movie is above average for most of the parts.
The much hyped special effects is obviously a cut above the rest. While the spaceship impresses, the alien subject "jadoo" does not. The creature looks too plastic, with expressions extremely wooden, and hardly a connecting factor with the audiences. That is a factor that bugs me a lot. Even after twenty years, it is unfortunate that we cannot create a 'alien' like what Spielberg gave us back then with ET.
India's first big sci-fi film, you say? I hardly found this movie convincing as anything sci-fi. The film just tries to be a sci-fi flick, starting from a Star Wars credit roll, but then that is all there is about it. A spaceship lands, an alien comes and an alien goes...and with that the sci-fi aspect is over. This movie in fact is not about the alien or the outerspace lifeforms, and all that is just an excuse to bring out the same ol' entertainment in a new light. Should have expected that when you have four big time Bollywood writers doing the job- ultimate masala mix!
What this movie really plays out is more like a comic book flick. I am not just talking about a straight from 'Spiderman' sequence. The hero is an underdog, bullied by everyone, ridiculed by others and some overnight powers gives him the chance to settle some scores. That is exactly what Koi Mil Gaya is all about, and that is exactly a formula that Rakesh Roshan loves to play with.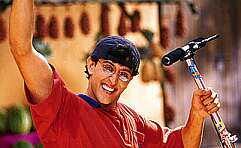 Dances, fights, laughter, the emotions...everything is 'very filmi' about Koi Mil Gaya, right upto the last few reels where Hrithik takes on a whole police force to save his 'alien' friend. There is no denying that but then again, it is a good entertainer at the end of it all. As a Bollywood entertainer, the movie works real well and is hardcore popcorn stuff, but if you raise your hopes expecting out-of-this-world sci fi stuff, the movie might not end up all that great. Especially for those who are avid Hollywood freaks.
Papa Roshan knew that when he is throwing in a lot of money into the project, he also have to ensure that it pleases the whole nation. Because if he had made a quality sci-fi flick, I bet the film would have failed miserably at the box office only managing to win the hearts of a few metro crowd. This one is certainly aimed at the kids, the family audiences and those with a 'heart of a child' in them. But Roshan has paved way for better things to come. What other directors did not try in spite of the super success of Mr.India, could be revitalized once again with the success of this "sci-fi" attempt. Probably a hardcore sci-fi fans' flick is round the corner, and we would not have to sit through cheesy dialogues in that one. However that has to be endured in this one, sorry about that.
An surefire formula where the weak emerges mighty, a literally 'out-of-this-world' performance from Hrithik, quality direction from director Roshan and some great songs make the film an entertainer, no doubt and is definitely worth a watch.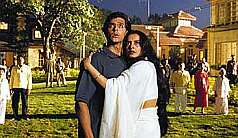 read Akshay Shah's review on KOI..MIL GAYA