Raakesh Roshan is back! Its been a 3 years since he set the boxoffice ablaze with KAHO NAA...PYAAR HAI and gave the industry its potential future superstar. 3 years later he is back with another entertainer re-uniting with son Hritik Roshan and brother Raajesh Roshan....expectations are GIGANTIC..and yes, Mr Roshan does NOT let us down!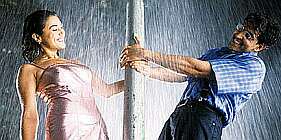 The film revolves around Sanjay Mehra(Rakesh Roshan) a scientist who is obsessed with the idea that there is life on other planets.He invents a computer with which he sends sound waves in space hoping for a response back from one of the planets. One such night his dream becomes a reality when he recieves a signal back from outer space and soon after that a space-ship is sighted. The authorities dismiss Sanjays findings and think he is exaggerating. Sanjays succees is shortlived as he and his wife Sonia(Rekha) meet with a horrific accident which takes Sanjays life.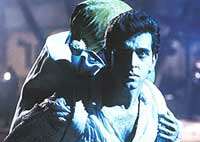 Sonia survives and gives birth to their son Rohit(Hritik Roshan). Due to the accident Rohit is a mentally challenged. Although he may appear older in his appearence, his brain is that of a 8 yearold.Rohit faces torment and ridicule his entire life due to his abnormal behvaiour. Rohit chooses to hangout with little kids who he feels comfortable with.
Along comes Nisha(Preity Zinta) who takes a liking for Hritiks simplicity and understands him and connects with him completely.
One day Rohit discovers the computer that his father was working with before his demise. With Nishas help Rohit gets the computer working and both are intrigued by the image and instructions of the computer. They decide to play with the computer not knowing that they are actually sending sound waves into outerspace. Not before long a response comes from space after which the entire town witnesses a blackout followed by a sighting of a U.F.O which leaves them breathless.
To add more, a pair of strange footprints are found near where the U.F.O landed determining the fact that some sort of alien life form had been left behind in the town...
How Rohit befriends the alien and the phenomenal changes that occur afterwards forms the crux of the story!
In terms of a story Roshan seems to be clearly inspired by Spielbergs E.T and the E.T inspired MAC AND ME which released later. But apart from the obvious similarities, KOI MIL GAYA is a different movie altogether.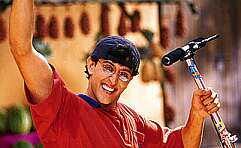 The screenplay by Sachin Bhawick, Robin Bhatt, Honey Irani and Roshan himself deserves fullmarks. Despite having a story that has never been witnessed before in Bollywood, the writers make sure the film flows smoothly and is easy to comprehend by the average movie-goer.Right from the first frame to the last the viewer does not get bored at all.
As a director Raakesh Roshan gives the film his absolute best!! The subject of the movie is alien to the indian audience and kudos for Mr Roshan for trying something novel. He clearly knows what he is doing and shows his command as a master storyteller in every frame. Right from the start Rakesh shows that he is indeed a showman of sorts. To his credit he hasn't relied on gimmicks to move the film forward, he relies on raw human emotions to make the movie work and he is completely successful! His only downfall is his creation "Jaadoo" or the alien. The alien looks fake onscreen and fails to click with the viewer. One wished that Mr Roshan had taken more care to present a more believable looking character, nevertheless for a first timer in this genre this can be overlooked. Also, Mr Roshan has taken a risk by casting the hero of the movie as mentally challenged for the most and the risk certainly pays off as Hritiks performance becomes the highlight of the movie.
A point to note is that even though the story of the movie is unique and different, the theme of the movie is the same as all Raakesh Roshan flicks...the underdog strikes back!! Be it Rekha taking revenge in KHOON BHARI MAANG, KARAN ARJUN coming back to kill Thakur from the dead, the mute Shankar revolting against his master or Rohit taking on his old enemies in KAHO NAA PYAAR HAI...it is the same formula..and to date it hasn't lost appeal.
Some scenes in the movie deserves a special appearence
* Hritik Roshans initial outburst after he finds out he has to repeat 7th grade again
* The scene where Hritik gets bullied by Rajat Bedi and his cronies for the first time and they break his scooter and the consequence scene that follows with Rekhas outburst
* Hritik having a tete-tete with Lord Krishna.
* Hritik Roshan being insulted by his computer teacher and the scene in the 2nd half when he stands upto the same teacher(THE ENTIRE CINEMA WAS CLAPPING)
* Hritik gets beaten again by Rajat...this time with a Basketball
* The Basketball game which is a LOT of fun
* The finale which captivates the viewer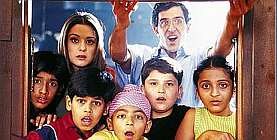 Rakesh Roshan trump card lies in his son Hritik Roshans acting and brother Rajesh Roshans music. Raakesh knows how to extract the VERY BEST from his family thats for sure. Where KAHO NAA...PYAAR HAI was to showcase the talent of Hritik...KOI MIL GAYA explores that talent to its maximum potential and makes one sit-up and notice the actor.....HRITIK ROSHAN!
As a actor Hritik Roshan proves that he was BORN TO ACT. With Rohit Verma he has a character which was written with him in mind and to showcase his acting ability and Hritik does not disapoint.
I wont be exaggerating if I say that Hritik is the LIFE of KOI MIL GAYA. His entire performances from the first time he appears on screen to the very last frame is absolutely positively M I N D B L O W I N G. He gets right into the skin of Rohit Verma and one completely forgets that they are watching Hritik Roshan on screen. His get-up, his clothing, his eye movement, his voice modulation, his dance steps are all just P E R F E C T.
His emotional scenes will make the viewer teary-eyed, his comic scenes will have the viewer chuckling and his dramatic and action scenes are also SUPERLATIVE.A class *A* act by Hritik Roshan, he 100% deserves every award that comes by him this year and IMO this is hands down the BEST male performance of the year. To put it mildly...his performance catapults the movie from GREAT to EXCELLENT!
Preity Zinta is there simply to compliment Hritik Roshan. She gives a likeable performance and look gorgeous throughout. Her performance in ARMAAN was of a much higher calibre, but this is not her show.
Rekha is great in her role. She is a chameleon and can fit into any role or character. After her superb stint in RGVs BHOOT she is back in yet another solid performance. This time round in a mothers attire. She is effective in her part and her scenes with Hritik are well done. Johnny Lever manages to raise a few laughs which is huge compliment for him. His dialogues are hilarious and for once Lever is in top comic form and doesn't irritate. Rajat Bedi is OK with his rich and arrogant act. He evokes hatred in the viewers heart when he bullies Rohit. Rest of the supporting cast fit the bill accordingly. Mukesh Rishi, Prem Chopra, Beena, and Anjana Mumtaz are all as expected.
A special mention to Raakesh Roshan as Sanjay Mehra who is good in a cameo appearence and above all the kids! For once the kids don't go overboard with their antics and are likeable throughout. They behave like kids, and raise a lot laughs(specially the little punjabi kid). Their chemistry with Hritik is extra-ordinary and they are definetly an asset.
Music of the film is another H U G E highlight in elevating the movie into a movie experience. Raajesh Roshan has NEVER disapointed in a Raakesh Roshan film...and this is no different. Each and every song is a a pleasure to watch and one waits for the next song. The picturisations of the songs are also splendid and Rajesh Roshan has a winner on his hands. Pity that he is so underrated nowadays.IMO one of the best soundtracks of the year. IN PANCHIYON, JAADOO, HAILA HAILA, IDHAAR CHALA MAIN UDHAR CHALA or ITS MAGIC are all just too good. One of the best soundtracks of the year and the song look MUCH better on screen.A special n ote to Hritiks dancing in IDHAR CHALA , ITS MAGIC and HAILA HAILA which enhancen the songs impact. Roshan who has also provided the background score deserves a 10/10. His score is haunting and surreal and perfectly captures the mood of the movie. Specially his AUM tune.
Technically the film is akin to any hollywood movie. The cinematography by Sameer Arya and Ravi.K.Chandran is breathtaking. The film has been captured like a beautiful celluloid painting and the film oozes magic in every frame;)
The SFX and CGI effects in the movie are a mixed bag. For a film of this nature this apsect of the movie is very important. The spaceship in the movie has been portrayed very well. For those who watch Hollywood movie this will come across as ordinary, but for this who don't, they will be blown away! Its the first time a space craft or U.F.O has been shown on the screen and the expectations are met IMO. Although it is obvious that Roshan has used a similar craft to that seen in INDEPENDENCE DAY with the same creator.
On the other hand Raakesh Roshans much hyped creation "JAADOO" fails to live upto the hype. The character comes across as too lifeless, fake and plastic and fails to connect with the viewer. The trademark big eyes of a alien are there...but they are lifeless and dull. After its initial entrance, the actions of the alien don't excite the viewer much and (thankfully) the alien doesn't have as much scope as expected. It is actually the AFFECT that the alien has on Rohit that the film focusses on.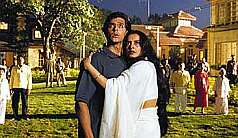 Tinu Vermas action scenes are excellent.Ditto for the basketball game which is fun to watch.
Jaaved Sidiquis dialogues are ACE. Specially those delivered by Hritik, Rekha and Johnny which have a impact on the viewer.
So is KOI MIL GAYA worth a watch...HECK YES!!!!!!!!!! The film is one of the most entertaining films i have seen in recent times and completely lives upto its hype unlike other big films of late (MAIN PREM KI DEEWANI HOON anyone?). Like BHOOT, there will be some who may not digest the premise of the movie. Nevertheless the film is worth a dekkho more than once for Hritik Roshans FLAWLESS performance and Raajesh Roshans BRILLIANT music.
KOI MIL GAYA Is a entertainer in the true sense and provides something for everyone. Be it romance, comedy, action, drama, suspense or mystery. Thank you Mr Roshan for finally giving us a full blown ENTERTAINER and not letting us down(not me anyways)
8.5 outta 10