Priyadarshan is doing it all wrong. Last year he came up with HERA PHERI - which was appreciated by critics all right. But the movie was nowhere near the true brilliance of the original Malayalam flick - RAMJI RAO SPEAKING.
He can't come up with anything new and original anyways, which is evident from this year's KAKAKUYIL. And then back in Bollywood, he use the same sets that he made at the Hyderabad studios and do a remake of one of the finest of Malayalam films - SANMANASULAVARKA SAMADHANAM.
And he makes a total mess of it!!!
And I am sorry if much of the review does not make any sense to most readers, except for the Malayalee ones...but I can't help but compare YEH TERAA GHAR YEH MERAA GHAR to the original.
THE STORY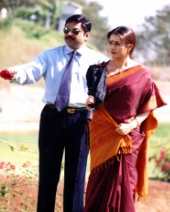 Sunil Shetty has been casted in the role of a house owner Dayashankar Pandey, who needs the house badly due to the problems his own family is facing. But however, things are not so easy as the occupant, Saraswati (Mahima Choudhary) and her family, refuses to leave the house.
Pandey is hell bent on getting them out of the house and inorder to force them to vacate, he moves into this house and try to irritate them as much as possible.
Sunil also gets hold of his old-time buddy and now cop Yadav (Paresh Rawal) to get them out of the house. But with Yadav falling in love with Saraswati, he cannot carry out Pandey's plans.
With the comedy being not much of the usual slapstick ones, care must be given to the dialogues and ensured that they make you laugh. Unfortunately, most of the time the dialogues fail, and if they don't then the comic timing of the cast goes wrong. And very rarely does these two come together making just a few scenes really funny.
YEH TERA GHAR YEH MERA GHAR is supposed to be a great comedy. And if it isn't, Priyadarshan seems to be the only one to be blamed.
First of all, he must get rid of that dumb S.P. Venkatesh background score. It might have worked in VIRASAT. But sadly, it is a major irritant in this Hindi flick. Some of the funny scenes does not seem funny due to this awry score in the behind. Sometimes the music can do a lot to the scene, especially if its comical. Priyan still hasn't figured that out!
Then Sunil Shetty taking on the role of the house owner from Mohanlal. The difference is that when an actor of the caliber of Lal gets the laughs with just a gesture, Sunil has to put in everything he got. I feel sad for Shetty bhai, for here he has given it everything he got, and still fails short of living up to the character's true comic potential. I really found Sunil Shetty funny in movies like GOPI KISHEN and even in his small role in KUCH KHATTI KUCH MEETHI. But in here, not as funny as the script demands.
Next on the line is the inspector's role. It was supposed to be outrageously funny. And though Paresh Rawal is a great actor, here he does not end up as comical as you would want, and not as comical as the original character. Just imagine Johny Lever as the cop trying to woo Mahima. And if Lever does not get loud and crude, it is sure to make you laugh. That is the kind of laugh one expects from the cop's character. Even the song picturized on the cop was supposed to be a funny song, and not the kind of romantic duet that was shown here. And the costume in that song is the last thing I want to ever talk about!
Mahima Choudhary is the only one who comes out with something strong in the final count. This is probably her biggest role after her debut in PARDES, and she does a good job of it. Oh yes, and then another well acted out character was Saurabh Shukla.
Oh and let's not talk of Usha, the woman who played Mahima's mother. That was one character so horribly acted out.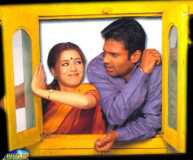 Then Priyadarshan tries to fit scenes from several of his works into this one movie. You have a couple of scenes from CHANDRALEKHA, one from MINARAM, and one even from VANDHANAM. Malayali moviegoers will know what I am talking about. The rest can read on.
It is again a simple story of a simpleton supposed to be told with a great touch of humor. But sadly, the movie fails to strike bulls eye when it is required to. I mean there might be some story here, but the moviegoers need to really laugh their heads of, if this was to win the audience. And since it does not, it is not as effective as it should have been.
There are just a few songs thankfully, and though they are not really great ones, they are certainly not that bad either.
What I still cannot digest is one scene where they show Mohanlal crossing the streets of Mumbai. Just like that, with him not even being a character in the movie! I think that is one of the biggest insult that an actor like Mohanlal can get, and what is even more shocking is that it comes from his best buddy- Priyadarshan.
THE BOTTOM LINE
All in all, the bottom line is that Priyadarshan + Sunil + Paresh Rawal fails to equate the brilliance and talents of the team from the original, director Sathyan Anthikad, Mohanlal and Sreenivasan.
My earnest request is that Priyadarshan should avoid taking on the best movies from the south and remaking them, for he does a lousy job of it. And even if he wants to, please do it with his own movies. Not works of his fellow directors like Sathyan Anthikad, Fazil and Siddique Lal. He is not doing his career any good with such half-hearted attempts.
Yeh Tera Ghar Yeh Mera Ghar anand-milind
right click the song and save target/link as...