It certainly was a matter of honor that Priyadarshan opted to make his 50th film in malayalam, that too with the team that he started it all with - Mohanlal, Mukesh, Jagathy....!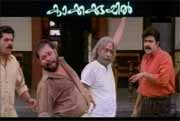 But what we have over here in the form of Kakakuyil is one big disappointment all the way, as there is no story worth writing home about, half-cooked characters, poor music score, boring screenplay that is a mish mash of all Priyan's earlier movies. The movie is certainly heading to no man's land, and yet another bad film under Mohanlal's cap!

Now this comedy is about a simpleton Sivaraman (Mohanlal) who comes to the big city looking for a job. And here he manages to meet up with an old buddy of his, Govindankutty (Mukesh). And their misadventures take them through a bank robbery.
But still in need of the money, they take on a new role as the grandson of a rich blind couple. So taking advantage of their blindness, Sivan poses as the son, but when the couple touches Govindankuuty, it becomes a big problem as one is now the voice while the other is the body.
The rest of the movie is about how long can they go on cheating everyone around them until they get enough money to send home!
Though Mohanlal and Mukesh are big talents, the roles of two unemployed youth isn't exactly the right role, especially for Mohanlal. Lal's role as Sivaraman is never easily digestible.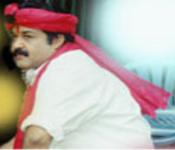 It is actually Mukesh as Govindankutty who steals the show whenever possible. One wonders how could Priyadrashan hand over such a role to his buddy Mohanlal.
Then Priyadarshan does rope in the usual comedians like Innocent, Jagathy, Cochin Haneefa to give the laughs but unfortunately the talents of Jagdeesh is horribly wasted. He seems to have got yet another role that he would have got way back in the 80s.
The females are least impressive, especially the heroine Aarzoo.
Even the songs composed by Deepak Chakravarthy is a terrible disappointment. And to top that Priyadarshan ropes in special appearances from Shweta Menon, Ramya Krishnan and even Sunil Shetty!!!!!
But it would have been better if some more care was taken in developing a decent storyline. The first half can easily keep you laughing and there is not much going wrong there. But post-interval, makers run out of ideas, viewers run out of patience, and the movie just drags itself to the expected climax.
The movie is just a disappointment all the way!