BHARAT SHAH's SHOCKING ARREST
After several rumours and stories revolving around the arrest of Rizvi arrest, the debate was on whether the industry had links with the underworld or was it just a case of a rare few.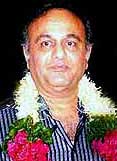 But now things do take a shocking turn with the arrest of Bollwood's biggest financer Bharat Shah. With this arrest made by the Mumbai police, shockwaves have been going through the entire industry and suddenly many of the big projects are already shadowed with problems. After all no one expected this producer-financer-diamond merchant who has investmentsof nearly $100 crore Rupeees in several Bollywood projects.
Bharat Shah's houses were raided and the police also claims that they have tapped phone calls as proofs for Shah's links with the underworld.
Bharat Shah was a force to reckon with in Bollywood industry and he is the reason why many of the big projects finally do make it to the theatres. His last few projects included Kamal Hassan's HEY RAM, RajKumar Santoshi's PUKAR & CHINA GATE and Mani Ratnam's DIL SE and most recently Ajay Devgan's RAJU CHACHA.

And the problem comes with the other major releases that Bharat Shah is financing which includes the ready-to-be-released KASOOR, and Sanjay Leela Bhansali's dream project DEVDAS. He has also invested in the TV channel B4U and Shahrukh's DREAMZ UNLIMITED and the dot com company SRKWORLD.
And the matter definitely does not end here. For the Mumbai police is determined to get to the bottom of it and is getting set to question numerous other film personalities regarding this mafia connection!
DDLJ BREAKS RECORDS!
Who can forget the magic of DDLJ - short for DILWALE DULHANIYA LE JAAYENGE. Truly one of the best movies of the last decade.
And it just has registered itself as an all-time great by going into the record books as one of the longest running movies ever.
And thus a 20 year old record of SHOLAY for running in a single theatre for nearly 265 weeks was recently shattered with DDLJ about to enter its 268th week at the Maratha Mandir cinema hall in Mumbai where there the movie is still drawing in crowds and the exhibitors have no intentions to stop the screening any time soon.
Ofcourse, with the number of flop movies being shown around increasing, looks like DDLJ is sure to stay around for several more weeks!
HOLLYWOOD SIGHTS
Suddenly there is a sudden rise of stories about Indian stars and makers taking up Hollyood projects. Surely, not all of them are going to work out at the end of it, and we are definitely never going to see most of them. Or shall we?
Afterall, we know that Om Puri has successfully managed to carve a niche for himself in the flooded international market with movies like GHOST AND THE DRAKNESS and EAST IS EAST.
And then we have TERRORIST fame Ayesha Dharkar casted in George Lucas' STAR WARS Episode II.
So what is the latest in the Hollywood news factory??
First of all ace director Priyadarshan seems to be a hot favorite to take on a Hollywood project produced by Columbia Tristar Pictures. But he shall only work on the project after all his 'desi' assignments have been wrapped up.
Another major Hollywood project shall be by Kerala film maker Rajeev Anchal (of GURU fame). He shall be also making a movie BEYOND THE SOUL, produced by Screen System Corporation and shall star some of the big names of the Broadway Theater Way.
Diana Hayden is another Indian who seems to be cast in a movie opposite Bruce Willis. Another story still yet to be confirmed?
But here is another story where Hollwood is coming to Bollywood. It is heard that Nicole Kidman shall do the "chumma chumma" number in her upcoming movie MOULIN ROUGE.
for more news from last week:
Rahman to compose for Jennifer Lopez
Choreographer Bobby Khan to direct Lucky Ali
Rishi Kapoor- Neetu Singh for a 'desi' HOME IMPROVEMENT