THE BIG $ 20 MILLION OFFER
It's not confirmed, but THE WEEK magazine did carry this story about Columbia Tristar Pictures is planning to make a big indian movie on the life of Chandrashekar Azad, the Indian freedom fighter.
The movie is supposed to be directed by our very own Priyadarshan and chances are the lead role shall either go to Hrithik Roshan or to Abishek Bhachan. And it claims that the pay for the role shall be a whopping $20 million (around Rs.100 crores).
Though certainly the figure does sound a bit far fetched, let's see how much truth is there in the story in the coming weeks to come!
BOBBY KHAN TO DIRECT
Bobby Khan, the leading music video director is planning to try his hand a t movie directing too.
As far as the latest reports. it looks like he shall be signing singer Lucky Ali and Jimmy Shergill for his debut venture. He also intends to sign one of the major Khans for this movie.
And he shall certainly have a great time getting the songs choreographed, especially since the music director shall be none other than A.R.Rahman.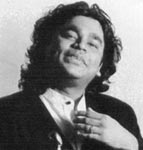 RAHMAN TO TUNE JENNIFER LOPEZ
Undoubtedly India's hottest music composer A.R.Rahman is going to be in the news once again as he has bagged another major international project. And this time it is to compose the theme song for the upcoming 16-nation football tournament to be held in India in 2001. But the best thing is going to be that it is none other than Jennifer Lopez who is being planned to perform the song for the major event.
Let us hope the plans do work out and we shall eventually see Rahman-Lopez come up with an awesome number. Hope Sean 'Puffy' Combs don't mind!
A 'DESI' HOME IMPROVEMENT !
Many are familiar with the popular TV series of the 90s, HOME IMPROVEMENT, which also made actor Tim Allen a household name.
Now the star couple of Rishi Kapoor and wife Neetu Singh shall come together with an Indian version of the same hit series quite soon.
SIMRAN TO WED RAJU SUNDARAM
It certainly seems marriage time all over the Indian film world. With Hrithik marriage taking place last weekend and the Akshay-Twinkle engagement confirmed, the south too might have its share of marriages.
We have been hearing stories of the Simran-Raju Sundaram affairs for quite some time, and the latest in the series is that they might be actually going to the marriage altar together.
Simran finally looks like planning to finish off her projects and settle down by marrying Raju Sundaram, the choreographer. Though it is a relationship that the Simran household was not so happy with, it seems that her parents are finally giving into their daughter's wishes and we might actually see wedding bells for Simran and choreographer Raju Sundaram, (for those who don't know, he is the younger bro of dancing star Prabhu Deva).
THE HRITHIK CONTROVERSY
THE HRITHIK WEDDING
THE BACHCHAN WAX AFFAIR