MUCH ADO ABOUT NOTHING !!
The Hrithik remark that was never made
Last few days saw tense protests and riots by a section of Nepal over a remark made by superstar Hrithik Roshan, and the surprising part is that such a remark was never made in the first place. But what did happen was the death of a couple of innocent students due to these riots!!
It all started with the spreading of the rumour all over the Kingdom of Nepal that superstar Hrithik Roshan in one of his recent interviews to Star Plus had claimed that he among all countries, he hated Nepal and its people the most.
And such a derogatory remark was all that was required to sparks off protests all over the country of Nepal and students took to the streets with the protests. However the protests did get unruly and the clashes of the students with the police resulted in the death of nearly four students so far and several other injured. Protesters have also set fire to many cinema halls that were showing Hrithik starred movies like KAHO NA PYAAR HAI and MISSION KASHMIR, and even all Indian Tv channels have been banned all over.
Hrithik Roshan, on the other hand, have repeatedly denied these allegations and have clearly stated that never had he spoken of Nepal in such a discriminatory manner and he would never do that ever. Infact, he claims that he really loves the place and the question of hating Nepalese never arises first of all, simply because two of the household staffs - are from Nepal. One of them Prem Singh Negi (50 years) has been with his most trusted help and was always like a second dad to him.
But the people of Nepal have erupted and is still constantly seeking apology from the star over a remark never made by him.
But now things certainly takes a different turn with various theories coming forward regarding who is behind this rumour.
With the latest developments being the opposition asking the Prime Minister of Nepal, Girija Prasad Koirala to quit his post, one can believe that it might have been a political ploy all along. But another theory that has now taken a strong hand is that it could also be the underworld trying to get even with Hrithik and his father, Rakesh Roshan.
The underworld connection all started with Hrithik's overnight popularity, and father Rakesh Roshan clearly giving a "NO" to projects financed by underworld. Few weeks from the release of Hrithik's first movie, his dad Rakesh was shot at. And then recently with the arrest of producer Rizvi, it was also confirmed that plans were on to kill the Roshans.
Well, no one expected Hrithik Roshan to have such a turn of events. A few days after his marriage comes this shocking turn of events where a country is going to political instability simply due to a "so-called" remark made by a superstar, that too from a neighbouring country!
HRITHIK FINALLY TIES THE KNOT!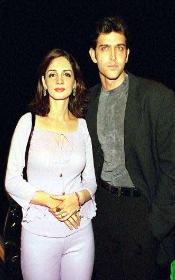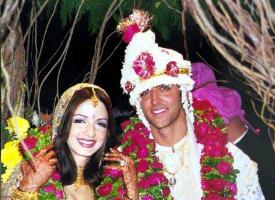 The nation's heart throb and overnight sensation Hrithik Roshan finally did what his female fans all over the country and abroad dreaded- he finally married.
Well, everyone knew that he had his hearts for his childhood sweetheart Suzanne Khan, and now certainly is going to remain the hard fact with Hrithik marrying Suzzanne on December 20th at a resort in Bangalore.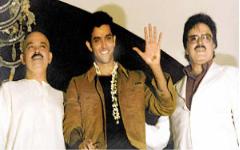 Ofcourse, the marriage was a hush-hush affair with only a few close relatives attending the ceremony. But the glamour and glitz will really spark up when a special reception going to be held later in Mumbai for the big ones of Bollywood.

AND AMITABH GETS A DUPLICATE
December 20th was also special to Bollywood for another reason. This time to do with our bigger sensation, Amitabh Bachchan.
He was honored with his wax replica at the prestigious Madame Tussaud's, thus becoming the first Bollywood personality to have his statue up at the museum and only the fifth Indian.
The statue too was unveiled for the public on December 20th and Big B, Amitabh, specially flew into London to be a part of this special moment.