After successful acting in recent releases like MUTHALVAN and RYTHM, Arjun shall turn back into producing and directing with his new film VEDHAM.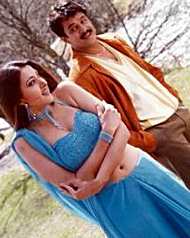 And no, it is not an action film like many of his earlier films but instead it is a film based more on the relationship of a happy couple.
While Arjun plays the lead man, it shall be Sakshi as the female lead. Besides these two. the movie also features another pair- both stars from the Kerala front - Vineeth and Divya Unni.
Music shall be Vidyasaagar, who is now one of the topmost music directors in Kerala. But he is still yet to make a big mark in Tamil cinema like many of his counterparts.