The movie deals around three central characters Arjun, Abhirami and Prakash Raj, all of them aspiring to get into civil services. They all meet in a train as they head for training. As expected, Arjun and Abhirami falls in love with each other. But Prakash Raj too has his eyes on Abhirami, but furious to know that she loves Arjun and not him. Thus Arjun becomes a major rival to Prakash in all ways.
Though both Arjun and Ahbirami easily makes it as IAS, Prakash Raj loses out to them and instead have to settle in for a IPS.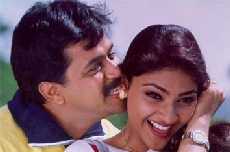 Arjun however gets involved in a case, that is the murder of a man, and as a result is not able to take his position. Prakash Raj who was about to resign his position as a police officer just after a day due to his disinterest in it, changes his mind when his arch rival is brought to the jail as a convict.
So The rest of the movie focuses on how Praksh Raj tried to keep Arjun in the prison with his schemes and ploys and how Arjun manages to come out of it all to reunite with his lover, Abhirami.

Prakash Raj is certainly what keeps the movie above average. Though his style is not anything new, it is still what makes his character tick again.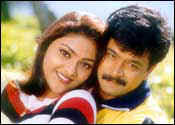 The director ManojKumar could have easily avoided getting a complicated screenplay into the storyline. When some of the ploys used in the movie are noteworthy, others are simply ridiculous. And the legal laws have been twisted accordingly so as to fit the director's needs.


Abhirami is certainly dazzling and impressive. After a couple of Malayalam movies, this much deserved break into the Tamil Cinema is sure to take her to new heights. Even newcomer Uma has done a good job too.

Arjun is yet again his usual. Delivers the dialogues and the punches with equal impact. But certainly not his best.

Deva's score is also just about okay.
All in all the movie looks decent enough for a watch and a satisfactory run at the box office too.