Director Joemon brings together Manoj K.Jayan and Lal for an action movie that deals with the lives and politics behind the underworld and how relationships are affected overnight. Though the movie was initially planned with Mamooty, things never materialized and now the shooting of the movie is being shot in full swing with the present cast.
Vellubhai is a strong underworld figure and years back he hand over Cochin to his faithful associate Anthony and heads off to Mumbai to expand his empire. However years later, Anthony has become a much bigger and dreaded figure and he does get on the wrong side of Vellubhai. So Vellubhai returns to get back his empire from the hands of Anthony. And then we are also introduced to two young men who land in Cochin - Michael and Siva. While the former is attracted to the dangerous yet luxurious lives of the underworld figures the latter wants a more simple and peaceful life. But their friendship is soon challenged by the circumstances.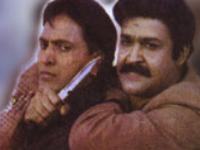 Mohanlal and Babu Anthony are also making a special appearance in the movie.
Mohan Sithara shall be the music director of this movie too.
Write in and tell us what you think of this movie