VANAPRASTHAM came and went and it won the laurels for director Shaji N. Karun as well as Mohanlal.
But this title is also famously known as a short story of M.T. Vasudevan Nair.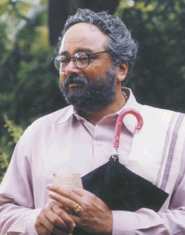 So now M.T is making a movie version of this celebrated short story and shall settle for the title of THEERTHADANAM instead.
While Jayaram shall play the lead role, that shows his character in three stages right from a young man to an older version, it shall be the heroine of VANAPRASTHAM itself who shall play the female lead in this one too - Suhasani!
The story is of Karunan Master who is searching for his love of his life Vinodhini even after 30 years after falling in love with her.
While the older Vinodhini is played by Suhasini, the younger Vinodhini shall be played by Suhasini's cousin Ashwathi of INDIRA fame.
Jayaram is supposedly playing the role of his lifetime in this movie.
Will this be able to give him the prestigious Bharat award that has kept away from this talented actor all these years?