Hats off to Kamal Hassan for not getting bogged down to being stereotype. Even when he has reached such dazzling heights in his career, he still never forgets to bring out a timely fun-riot at times to nake up for the heavy-budgeted drama he shells out. Thus he ensures that he keeps his movies coming with a refreshingly new cover on it every other time.
Previously it was the teamup with Prabhu Deva and Crazy Mohan to bring you the 'Kadhalaa Kadhalaa'. Now after the critically acclaimed yet commercially disastrous Hey Ram, Kamal is coming back with yet another laugh-riot.
This time Kamal teams up with the talented Jayaram to bring home the entertainment.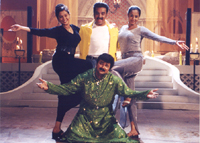 Kamal Hassan plays the title role of Tenaali, a Sri Lankan youth suffering from severe traumas and phobias and is undergoing tretment from a psychiatrist Dr.Panchabhootham (Delhi Ganesh). But Tennali becomes a complicated patient to handle, and begins to give sleepless nights to the doctor. So the psychiatrist decides to get rid off the trouble-some patient by casting the pain upon another upcoming psychiatrist, Kailash who happens to be a serious rival. Therefore Tenaali is transferred to Kailash. However Kailash smartly sees through his rival's schemes and decides to dump the patient with the excuse of going on a vacation with his family, ie his wife (Devyani) and his sister (Jyothika).
But Tenaali even lands up there at the hill station. thanks to the cunning Dr.Panchabhootham who ensures that Tenaali stays there with Dr.Kailash, despite Kailash's repeated attempts to send him back to the city. Things get worse for Dr.Kailash when his own family begins to like Tenaali and his sister ends up falling for the loony Tenaali. And when Tenaali's mad play gets out of hand, it is Dr.Kailash who ends up in need of some urgent treatment.
So now, ironically, it is upto Tenaali to find the cure to help his doctor and brother-in-law to be.
The comic timings of the veteran Kamal Hassan and the versatile Jayaram are a delight to watch and it is simply these two talents that keep the whole movie on its heels.
Because with the weak storyline it boasts of, there is nothing else commendable about the movie. Devyani and Jyothika just about manages to give the required suppport. Meena also comes in a special appearance.
Sadly, A.R.Rahman has come out with a rather mediocre (absolutely poor in terms of the Rahman standard) score. None of the songs have managed to catch the fancy of the audiences as yet. Even the picturisations do not help.
But Kamal and Crazy Mohan have once again come up with a roaringly funny script but even that begins to die off as you enter into the second half.
So though the movie has its moments, the punchlines, the slapstick etc, it is the lack of a major storyline that works against the movie.
But if it is mindless entertainment you are looking for, then like Kaadhala Kaadhala, this sitcom stuff would do the job.