With Lohitdas and Kamal splitting off after their work on CHAKRAM which now looks like a shelved project for good, Lohitdas got hold of Dileep and began work on his new movie.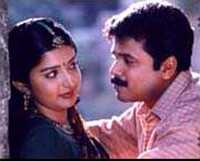 The result is Lohitdas returns a year later after the success of JOKER for yet another Dileep movie Soothradharan.
What is interesting to note is the career graph of Dileep between these two Lohitdas movies. Before JOKER, Dileep was just another actor yet to make it big. And now as SOOTHRADHARAN releases, Dileep is the most bankable actor in the industry. That's irony or what?
Dileep plays the role of Rameshan, a youth who earns his living selling pickles. One day he gets into a bit of a fight resulting in him stabbing the auto driver (Kalabhavan Mani).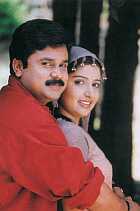 This is when Rameshan's friend (Saleem Kumar) gives him the address of a place in Pandavapuram and here he reaches the house of Devimaa a.k.a Devumaa (Bindu Panicker) which is a devadasi household, or in more simpler terms a brothel.
Meanwhile Rameshan tries to make a living in this new place by opening a homeo clinic near to this Devuma's house. But the problem really starts when Rameshan falls in love with this orphan girl brought up in this brother, Shivani(Meera Jasmine).
However Devumaa is saving Shivani for the local zamindar, while Rameshan is determined to save shivani from the clutches of Devumaa.
Meanwhile a reformed Kalabhavan Mani comes searching for Rameshan and ends up helping him in his mission to save his lady love.
Though Lohitdas has made good movies, one aspect I still think is that Lohitdas never knows how to bring on the great climax. Lohitdas did screw up the ending of an otherwise powerful film Joker and here too he makes the same mistakes. One wishes that he could come up with some well-though endings like Bharathan or Padmarajan.
Dileep has a role that he can perform without breaking into a sweat. The role is tailor made for him.
Though Meera Jasmin was brought into the industry with Lohitdas hailing her as the next big new talent, her performance isn't really anything ground breaking. While some of the scenes she has pulled off impressively, many at times she fails to deliver. She has the potentials but it would take her a couple more films to be recommendable.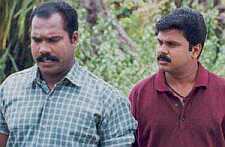 Kalabhavan Mani is once again impresses in his multi-shaded role of Sadanandan, the auto driver.
But the one who really shines is Bindu Panicker who does a pretty good job in her totally different role as Deviyani.
Good support also provided by the other cast members especially Cochin Haneefa and Saleem Kumar.
The music of Soothradharan is the real asset of the movie. Composed by Raveendran and written by S Rameshan maynot be in the same class of that of JOKER, but this score is also quite good and effective.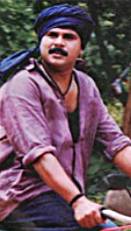 But somehow the movie was supposed to be a more dramatic and serious film, but Lohitdas decides to make it a bit more light since Dileep is the hero. and that could be the biggest reason why the film fails to work.
But again the subject is such that not much family audiences is going to sit through tales of prostitutes and eunuchs. So the movie will have to depend on the other audiences, especially in this festive season.
Lohitdas is a good script writer and his movies so far have been impressive ones too. However Soothradharan is the weakest of his films, and this probably is also the most commercial of them too.
So Soothradharan just goes on to prove that even some of the best directors can go wrong when they try to cash in on with some commercial elements. The movie will just manage to hit the "Average" slot at the box office despite the good acting and music!