Praveenkanth, the man who directed Rakshagan and Jodi, now comes up with an absolute disaster in the form of his new movie, STAR.
Initially it was planned to be an Ajit movie, but Prasanth was eventually the man who bagged the role. But the truth is that no matter who takes up the role, nothing can save the movie from the fate it eventually have to end up.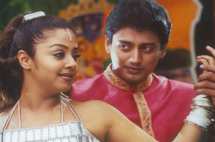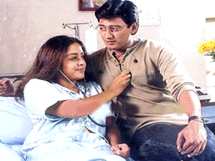 The story goes like this. Dhanushkodi (Raghuvaran) is a man on revenge. After losing his son, he takes a vow to take revenge by killing his enemy - the Collector's son. But the collector, Ramnathan, sends his son, Santosh abroad. 20 years later, Dhanushkodi is still seeking Santosh, but to no avail.
And in this juncture, Ramnathan thinks that he can trick Dhanushkodi by getting another guy to pose as his son and be the scapegoat. And for this he gets Murthy (Prasanth).
Murthy is a kind guy at heart, though he spends a lot of time behind bars. But he agrees to pose as Santosh, when he finds that the girl (Jyothika) he has a crush on happens to be related to Ramnathan.
But even when Dhanushkodi tries to kill this new "santosh", it still fails. And eventually you have the real Santosh landing in town.
Prasanth simply have to fight and dance his way through his role. Not one that is gonna get him anywhere. Jyothika is also getting very repetitive.
Raghuvaran is a real talented actor. But it is sad to see him also doing a no-good job just running around like a mad man, who can come up with nothing sensible. A poor villain characterization in all respects.
The story is a total drag, and simply fails to keep the audience interested. The script just gets ridiculous scene after another, and with several cliches thrown every now and then, we know where the movie is heading to.
And when you have the director Praveenkanth himself making the entry as the mysterious "Santosh", it is like the last nail on the coffin.
Now the music from A.R. Rahman, as you already know, was nothing new. Just versions of the songs from his hindi movies like EARTH and TAKSHAK. But then again the songs seem fitting enough for this ridiculous movie.