Priyadarshan is undoubtedly one of the most talented and creative of directors that the country has today. Inspite of several of his movies being inspired from Hollywood flicks or remakes, he still manages to give it a style of his own. And now, based on a marathi play "BINDAHAST", Priyan brings to the screens a movie with a female only cast, and no male lead performers.

Now it is not everyday that you get to see a director attempting something as daring as this, and that too in the Indian cinema. Therefore expectations were high.

So does Priyan live upto those expectations?

The movie dealing with close-bonded friendship as its central theme kicks off showing the happenings around the females college with two rival doing the showdown. One being led by Jyothika, alongwith her best buddy Shabrani Mukherjee, while the rival gang is led by Vashisht Arun (singer Ila Arun's daughter).

Everything is fine and well with the college scene but the story keeps moving with the girls cooking up a story about some lover in London inorder to cancel Shabrani Mukherjee's marriage.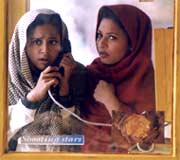 However the problem starts with this man actually showing up from nowhere and ringing up these girls. The stunned girls are confused, puzzled. And finally when they do ask him to show up at their hostel, they find the mystery guy murdered.

In comes Tabu as a cop and the rest of the movie is about how these girls try to keep away from the cops while trying to crack the mystery.


Well, the movie boasting of a powerful all-female cast does not disappoint in the acting department. Newcomers Vashisht and Shabrani all look great and promising. Jyothika strikes it big and this will only further help her already-soaring career. Tabu is great as usual inspite of her role being badly written.


Music and the cinematography are the movies biggest plus points.
Vidyasagar manages to give some catchy numbers, and Jeeva's camerawork is certainly classy. All of them is evident in the colourful and fun filled first half.

The movie starts off so well and is really an engrossing affair with all the college 'josh' and all, and with the mystery guy popping and all. But with the girls on the run, the script becomes weak and the director seems to lose complete grip of the going ons. The movie is simply made even complicated and ridiculous as the movie tries to reach the climax point.

Director Priyan puts in some unsuccessful attempt to give you the feel of a Hollywood thriller. But what it ends up is an another time pass Bollywood flick, and nothing more.