Kunchako Boban and Kaavya plays two lovers who meet at college and develops a healthy relationship. And like very onscreen college couple we know, they have a rather wonderful time together.
However, it is when they finish college that things go wrong. To start off their careers, both look for the right outlets. At first they both try even doing something together. However on the failure of those plans, both go their own way looking for opputunities.
Things take a full circle as they both meet each other once again applying for the same job at a TV company which has only a single vacancy to offer. So both of our lovers now turn against each other and try to outdo each other as they try to secure the job.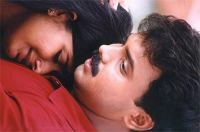 The movie takes wonderful turn here with both of them trying to get their hands on the hottest news first, with none of them ready to give up. But the movie takes the route to the usual ending which becomes the most disappointing factor.
Both the lead roles have been delivered in a rather pleasing manner. But the supporting cast actors especially Innocent and JAgdish are the ones who keep the movie a worthwile watch.
The music and the rest of the technical departments just about does the work required to.
The director does a pretty decent job and comes up with a rather pleasing movie.