Director Vinayan and Mamooty, joins hands together once again after DADASAHEB, inorder to give us yet another political action drama in the form of Raakshasa Rajavu.
THE STORY

Mammooty once again dons the police uniform and plays the role of city commisioner Ramanathan. Ramanathan would take the bribes from the corrupt whole heartedly only to use that money for the poor and in running the orphanage.
Ramanathan might not be appreciated by his corrupt fellow officers and politicians, especially finance minister Avarachan (rajan P. Dev). But he certainly is a "hero" among the poor. And one such poor chap Appu (Dileep) is the commisioner's right hand man.
Now things begin to go wrong when Avarachan's nephew Daisy (Kavya Madhavan) falls in love with Appu and tries to elope with him. Ramanathan does come in and help Appu out.
But things don't end there. For later, the entire family of Daisy gets brutally killed and the blame comes straight on Appu's head.
And it is upto Ramanathan to find out the true evildoers behind this massacre.
Vinayan's luck had to run out any time. And so after coming with several good movies, finally he comes with such a big disappointment. That too, after roping in such a huge star cast. The movie simply has everything in it stale, right from the dialogues to the screenplay.
The last time when the Vinayan-Mammooty team came up with DADASAHI, the truth was that it was a disappointing movie. But somehow it ran better than it should. This time too it might do average business, but the movie certainly does not impress. Too much violence and little common sense is what highlights this movie.
Mammooty to begin with does not impress or excite at all in this one. For him and for viewers, it is just yet another one of those cop roles.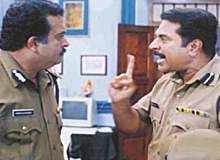 Dileep does put in a decent job here. But the truth is that his talent is completely wasted in a movie like this. To join him we also have Harisree Ashokan. Sadly, the duo lacks any of that comical magic we saw in the other hit EE PARAKKUM THALIKA.
Then the rest of the cast including Rajan P. Dev, Vijayakumar, Sai Kumar, Cochin Haneefa all does their usual. But Kalabhavan Mani does impress as the stammering minister.
The actresses all come in with nothing substantial. Meena plays the lead heroine, who is the chief minister's daughter has the hearts for the serious Ramanathan and his physique. And both Manya and Kaavya comes and goes.
It is the same story of cops and robbers, I mean politicians. I.V. Sasi, Shaji Kailas, Joshi have all done and redone this subjects and almost killed it off. Another director taking on it, without any innovation and novelty is a big mistake.
The story and screenplay, done by Vinayan himself, is certainly one that was rushed up with no clear thinking. And this muddled up plot isn't gonna take this movie far. Trying to incorporate the recent Aluva Murder into the movie, Vinayan simply fails to deliver a powerful or hard hitting Mammooty movie.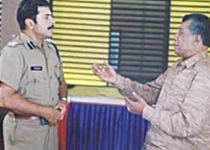 The Mammooty still can getter better roles and better movies, but if a successful director like Vinayan comes up with such ridiculous plot and script in these days of "dying cinema", not even the megastardom of an actor like Mammooty can help.
This is the worst of the Onam releases, no doubt about that!