We all know how talks were going on and on about how Mohanlal needed a hit, soon and badly. Lal was still the choice of the masses and with his latest release - Lal just proves that.
Obviously he has kinda got stuck with this 'bad boy' image with movies like ARAAM THAMPURAN, USTAD, NARASIMHAM while all the movies where he try a different image it fails to take off. And so in RAVANA PRABHU everyone plays it safe by giving back the same image. And it is no doubt a winner again!
Produced by Lal's right hand man Antony Perumbavoor (also producer of NARASIMHAM), and the directorial debut of script writer Renjith (known for all the hard-hitting scripts of most Shaji Kailas movies), things all go right this time.
Another important thing is that the movie is a sequel. Now we all know that sequels are always a tough proposition. But in this case, RAVANA PRABHU matches and even threatens to outbeat the popularity of its original, the I.V. Sasi directed DEVASURAM.
THE STORY
DEVASURAM featured the battle between Neelakandan (Mohanlal) and Shekaran (Napolean) which ended with Shekaran's arm being cut off by Neelakandan in a bloody battle.
30 years have gone by after the events we saw in DEVASURAM, with Mangaleshery Neelakandan (Mohanlal) now leading a peaceful life quitting all those killing and fighting he once was known for. But sadly, his son Karthikeyan (Mohanlal) fails to abide by his father's present principles and has become one big powerful goon.
But the villain from the first movie, Shekaran (Napolean) is still thirsty for revenge as his one arm was cut off by Neelakandan years back. And to help the evil Shekaran, we have his cousin Rajendran (Vijayaraghavan).
And so the war between the family continues. Shekaran becomes responsible for the death of Karthikeyan's mother (Revathi) and even the ancestral property gets in Shekaran's hands. And Neelakandan still refuses to take his son's help.
Karthikeyan however can't just sit back and watch all this happening to his own family. So he goes ahead and kidnaps Shekaran's daughter Janaki (Vasundhara Das). However quite predictably Karthik falls for Janki.
However things get out of hand, with Neelakandan getting tricked and ultimately killed. And our young Karthikeyan's blood boils, thus awakening the demon in him.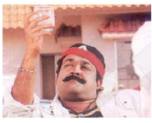 This movie is Lal, Lal all the way. Mohanlal just gives everything that his fans would want, and there is certainly no stopping him. And what is more, we have not one but two Mohanlals in here. And in both the roles, Lal shows why he is a megastar of the Kerala film scene. Be it comedy, be it action, Mohanlal delivers in style!
Napolean who made a name for himself in the Malayalam film industry just with the sole role of Mundakal Shekaran also returns to do a good job. And Viyaraghavan just makes it all the more exciting and fiery.
Vasundhara Das has nothing much to do and look pretty. Hopefully the success of this one will do wonders for her career. Revathi too does not have much of a role, as the old mother on the deathbed.
Jagathy and Jagdeesh arre there to keep company and also we have a special appearance from Kashmira Shah to sizzle things up!
Suresh Peter has once again notched up a winning musical score for this movie, following the success of his earlier scores for PUNJABI HOUSE and TENKASSIPATNAM, with the track 'Ariyathe' taking the cake!
Director Renjith, has done a great job in the director's chair after spending years writing scripts for several blockbuster movies. He makes sure that things do go overboard and ridiculous.
Well, when the going gets tough, the tough gets going. And with RAVANA PRABHU, Mohanlal has just got going all over again. This is certainly the mother-of-all action flicks that Lal has done over the years. Probably the most powerful one after his 80's grand flick - RAJAVINTE MAKAN.
This is sure to be a treat for all the Mohanlal fans, who just love to watch him deliver a memorable performance.
download RAVANA PRABHU wallpaper