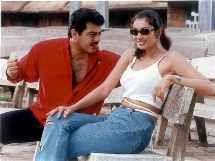 So, fresh from the success of his latest DEENA and CITIZEN, Ajit has already started working on his next project. This one shall be a family entertainer and he shall be supported by Jyothika and Sneha.
The movie is about two neighboring families who are really best friends of sorts, but then comes friction between them and obviously the lovers of the two families have to see that the family patches up!
The movie is already in the news, thanks to the 1 crore sets (that is the twin bungalows) that they have constructed for the movie.