After high expectations and after quite some time, K. Balachander finally came back with a movie, expected to be so grand since it was his 100th film. And thus this Diwali saw the release of PARTHAALE PARAVASUM.
K.Balachander, a veteran director decided to come back after quite some time back to the big screen with a bang - PARTHALE PARAVASUM, his 100th film. However the bang resulted in nothing but a box office disaster.
The movie simply is something that one can never associate a director like KB with.
Surely he did rope in names like Madhavan, Simran, Lawrence, Vivek for this project with music from A.R. Rahman, but somewhere down the line, KB goes all wrong, be it direction, script, screenplay!
All KB intended to show here was that a divorced couple could always stay on as good firends. But boy, the way he shows just flies above everyone's sensibility.
Madhavan is a dream romeo boy, a guy that all the girls in the world seems to be after. This guy is a doctor and owner of a posh hospital. But guess what, he is also an actor too - a 'one movie sensation'!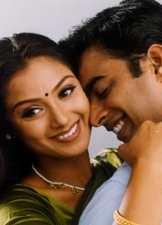 Back to the story, the man gets married to Simi (Simran) and things go normal, happy and cozy. Meanwhile both these have strong admirers too. Dancer Azhagu (Lawrence) has the hearts for Simi while the nurse Chella (Sneha) is madly in love with our doctor boy Maddy.
But the story goes for a twist when a lady Rekha (Radika choudhary) walks into their lives and claims that she was Maddy's old flame and also has a child from the relationship. And Madhava agrees to the deed too.
So a furious Simi walks out, and the rest of the movie is with these two getting divorced and still remaining good friends. Not only are they good pals but they also help in patching them up with their respective admirers.
But then there is also Madhava's periappa (Vali) trying to get Madhavan and Simi together.
Though the movie starts off in a sensible and orderly fashion ,except for some hiccups here and there. But come the second half, and the movie begins to get intolerable and beyond logic, reason and sensibility.
What do you expect when you get a thin flimsy storyline, that gets stretched on and on. And put in some half-baked characters and screenplay that is everything but special! The movie gets too long and too illogical for anyone's liking.
Not even special appearance from an actor like Kamal can do any good to a movie that is so half-hearted.
No one expects something like this from a director of the caliber of someone like K.B. Balachander. But somehow KB has got it all wrong this time.
The only silver lining in this movie seems to be the music from A.R. Rahman which is quite good but unfortunately the choreography and the picturisations of the songs weren't good enough to support the score.
There is a good star cast in the movie, but the roles they end up are no good for them.
Maddy can act and he showed that in movies like Alaipayuthey and Minnale. And boy, he also cannot act too. And all that deficiencies that we haven't seen him perform on screen, we get with this performance. This clearly shows that Maddy isn't slated for such mature roles so early in his career. But then his next movie is also a mature one in Kannathil Muthmaittal, but with Mani Ratnam there, you can hope for something better.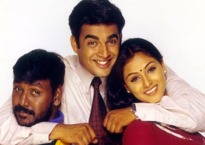 Simran once again seems to be alt ill-ease be it dancing or emoting. Though there are a few scenes where she come good, most of the time she is a bit off.
Lawrence was good in the dance sequences but his acting...well, that is a sad story indeed! Sneha is also quite adequate in her role, but there isn't anything much to chew on here either.
Vivek impresses in the few scenes he got!
However bottomline, Parthale Paravasum is nothing but disappointment, and coming from a director lie KB, that too his 100th...it just makes thing that much more worse.
The cast are not going to forget this movie for a long time since it is a dream to work with someone like KB...but we audiences are also not going to forget this movie even if we want to...it leaves such a bad taste in the mouth!