Kamal Hassan, undoubtedly the best actor in India, is certainly not a happy man these days. Why? Because he is at the receiving end ever since his highly anticipated thriller Aalavandhan/ Abhay failed miserably at the box office.

And after being blamed for over-indulgence Kamal Hassan has returned in just less than two months to play it safe and smart with this comedy quickie Pammal K Sambantham.
Over the past few years, Kamal Hassan's comedy has never failed to strike rich at the box office, and have been great money earners..even his last comedy Tenaali did better business than any of the other movies that released in 2001.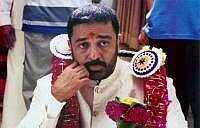 Meet stuntman PKS(Kamal Hassan)....actually Pammal Kalyana Sundaram, who is quite a rich guy living in the Pammal mansion inherited from his grandfather where he lives as a bachelor with his buddies (Abbas, Ramesh Kanna, Vayyapuri). Pammal is kinda allergic to the idea of marriage and has been turning down marriage proposals one after another.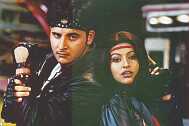 Now his friend Abbas is in love with Sneha, and he elopes with her with the help of Pammal and Sneha's helped by her friend Janaki (Simran), a doctor. Pammal still does not like all this marriage and all and warns Abbas, and even Janaki hates men to put in short. But still both helps their friend at this time of need.
6 months later, Pammal meets his young friend who just confesses that his wife, Sneha has been treating him quite badly and Abbas had only married Sneha in the hope of migrating to Australia. So now Pammal and Janaki are on their heels to split the couple, while the court has given them 6 more months to reconsider their divorce petition.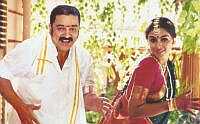 Then comes the twist with Pammal getting admitted in the hospital after an accident and a tensed Janaki while operating on Pammal, by mistake drops her special watch into his tummy. Now the watch is special -for every hour it rings a bhajan alarm, and now it is in Pammal's tummy. So Janki now in an attempt to get it back, begins to act as if she is in love with Pammal and soon even Pammal begins to fall in love with Janki.
Janki's plan works and she successfully gets Pammal back in the surgery table, and once she gets the 'watch' back she has only two words for him - 'get lost'!
A heartbroken Pammal now is ready to marry any girl that his family wishes him. What happens between him and Janaki forms the rest of the story.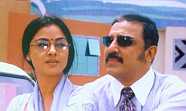 Laughter and Kamal goes hand in hand. And whenever Kamal and Crazy Mohan have joined hands, it has always ended up as a comic-caper. And there is no reason why this too should not follow the trend.
Be it Michael Madana Kama Rajan, Kadhala Kadhala, or even the recent Tenaali, the story has always been weak. And even towards the end, the humor all seems to be forced, but the audience is still left laughing away. So there might be major flaws, but one must be prepared to overlook all that...for this is a comedy...and a great comedy it lives up to be!
So even as a movie this might not be a classic, the point is that it has a high repeat value. You can watch movies like this a number of times, and you still won't get bored of it, and each time you will still laugh.
Kamal is simply splendid, and no critic can actually find enough praises for his work. But what is really impressive over here is that Simran simply steals the show at some parts, and if it wasn't for her performance the movie could not have been as funny as it is. Remember how Jayaram supported Kamal superbly in TENAALI.....well Simran too does a tremendous job and actually is up there scene by scene with Kamal.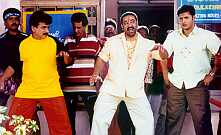 A wonderful and probably one of her career best show is what Simran has come up with in this movie, after her disappointing outings in movies like 12B and Parthale Paravasum.
Abbas and Sneha does not have great roles so they don't spoil much of the proceedings either.
The only disappointing part is the music from Deva. Some better music could have pepped up this movie a lot.
Whatever try blame the unbelievable happenings in the flick, blame the weak story and plot, or even the music....but the fact remains is that Kamal and Simran does a great job and the movie is a laughing roller coaster ride that is sure to emerge a box office success, no matter what!