No, this is not a superhero movie and has nothing to do with the popular comic strip hero, Phantom. This is instead about an interesting character named "Phantom" Paili, a top stunt man of the cine world.
And to play this interesting and different character is Mammootty. The movie will definitely be another one of those light-herted yet popular Mammooty characters like Kottayam Kunjachen.
The shooting for this movie will only begin from January as Mammooty is currently busy with a couple of tamil flicks, and also the hindi courtroom thriller SHAFAQ where he stars with Raveena Tandon.
Paili, even as a kid was always fascinated by movies. And this fascination and his dream of making it big as a film hero took him to Bombay, the hub of the Bollywood movie industry.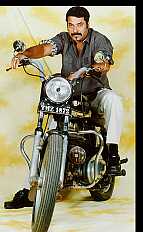 Sadly he realised that he is no hero material and he was discouraged in many ways. But Paili never lost hope. But all he could manage was as a stunt man.
And thus Paili over the years became one of the top rated stunt man of Bollywood- "Phantom" Paili, who used to substitute for some of the big heroes on screen. All was fine, until that one horrid day when one of his stunts atop an helicopter went wrong resulting in the tragedy that broke his leg.
So once famous Paili is no more a stunt god with his injured leg. So he heads back to his little village in kerala, a village set in a mountainous areas where natural calamities are quite normal.
And here when he lands he realises that there is a big dispute over the quarry mines run by a tamizhan Perumal. And while the villagers and the quarry workers fight among themselves, Paili somehow gets his head into all this.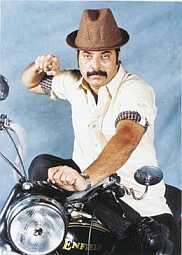 Hopefully this will be an interesting project to watch out for. This is Biju Varkey's third movie, and undoubtedly the biggest of his career so far!
Nishant Sagar who made his film debut with Biju Varkey's Devadaasi, now rejoins the director in this movie, casted as Mammooty's younger brother.
Newcomer Maalvika will be the heroine in this one.
The music shall be composed by the tamil music director, Deva while lyrics will be by Girish Puthuncherry. Biju Vishwanath, the director of the off-beat Deja Vu, will be the cinematographer of this film.
The movie is expected to hit screens for this Vishu and is brought to you by Swargachitra Films.