His potential action thriller Aalavandhan failed to make it big, but on the other hand, his mediocre comedy Pammal K Sambandham has won the battle at the boxoffice. So it is no doubt that veteran actor Kamal Hassan will stick into comedies for a while before he try anything new and daring.
So the latest in the list of comedies is Panchathanthiram...a comedy where he teams up with the Tenaali director K.S Ravikumar.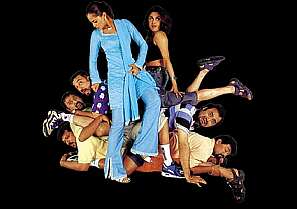 But Kamal Hassan, known to be the kind of guy who likes to do everything himself onscreen, is now going to share credits with a massive star cast. Which means he will team up with his Tenaali costar Jayaram and his PKS heroine Simran.
Besides them, we shall also see Ramesh Arvind, Shriman, Yuhi Sethu playing the other three guys...and the heroines will be Ramya Krishnan, Urvashi, Aishwarya and Sanghvi.
Shooting has currently started off in Ooty.
A 5 pack hero movie where each of them are sporting goaties...looks all set to get the laughs rolling.
The movie will once again be scripted by Kamal's lucky mascot, Crazy Mohan and they plan to wrap up the shooting of the movie within 2-3 months flat. Music shall be by Deva.