Director Vinayan has learned the tricks of the trade. He is the fastest rising hot-shot director in the industry today. But he has definitely been more successful with smaller budget flicks like Vasanthiyum Lakmiyum Pinne Njanum and Karumaadikuttan, rather than big superstar flicks like Dadasaheb or Rakshasa Rajavu.
But Vinayan is back...this time with a bunch of newcomers in his new movie. and yes, we have more protagonists with disabilites this time too. Expect a rape in there somewhere too - a usual ploy used by Vinayan to shake the sentiments of the female audiences.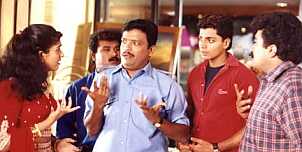 Baby (Jayasurya) is a deaf and mute guy from the streets who make his living painting advertisement boards. Some where down the line he happens to meet Gopika Verma (Kavya Madhavan) - another deaf and mute girl but from a very rich household.
Soon these two begin to come more closer, but there is major opposition from gopika's family. Things get only worse with the entry of Shyam Gopal (Indrajeet) who is supposed to marry Gopika.
So no it is the question of whether these two lovers can overcome their difficulties and unite and live happily ever after...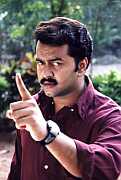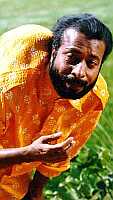 Indrajeet, Sukumaran's son debuts in this movie as the villain. The other son, Prithvi Raj however will be making his debut as a hero in Renjith's Nandhanam.
One wonders whether Jayasurya has what it takes to be a hero - but there is a very good supporting cast. And most notable among them will definitely be Harisree Asokan in the role of a hunch back.