The movie kicks off in an unusual style as Jayakrishnan (Jayaram) lands at the 'Kodipathi' show hosted by Mukesh. And it is here that Jayakrishnan tells that he is on parole and how badly he needs this One Crore rupee.
So the rest of the movie goes into a flashback mode...where we are now a guest of "Kodathi Veedu" since the household comprises of lawyers- the father (Narendra Prasad), the daughter Radhika (Samyuktha Verma) both very successful lawyers.
Then there is a third lawyer in here too, Menon's nephew and Radhika's murra cherukan, fiance, Jayakrishnan. He is a lawyer who has never won a case and is considered a worthless lawyer by the others.
But Jayakrishnan is hell bent on proving them all wrong and wants to taste success. So he with his junior Ponappan (Kalabhavan Mani) takes up the case of Hari Narayanan (Lal).
And with the help of doctor Razia (Manya), they manage to win the case proving that Lal is not insane as he is considered to be. This results in Jaykrishnan's marriage with Radhika.
But then the twist comes, with Hari refusing to get away from the life of these lawyers. And Hari gets Jayakrishan and Radhika into a whole lots of mess which results in them getting arrested. And now Jayakrishnan has to make One Crore bucks and fast!

This is clearly the signs of pressure that is working over here. With a success like Tenkassipatnam behind their backs, the makers are forced to come up with something that can better that and as a result falters.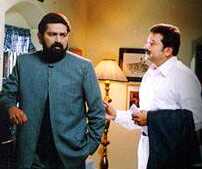 They think of a clever script but then wants it to be as humorous as Tenkassipatnam, resulting in a final product that is neither here nor there. Even when the movie was supposed to go into a 'serious' mould, we see it become more comical. The characters can never be realistic ones and more of the typical cardboard characterizations, designed for helping in moving the story ahead and bringing in the laughs as and when needed. Logic and realism takes a backseat in such flicks.
But that does not take anything away from the movie in the final count, because the viewers are coming in for a bit of entertainment, and these makers are providing them a hell lot of it. So nothing to be displeased about it.
And thankfully, it is not crappy as what Priyan gave us with Kakakuyil either.
Shafi, younger brother of Rafi, makes a decent directorial debut in the movie to an equally decent script from the Rafi-Mecartin team.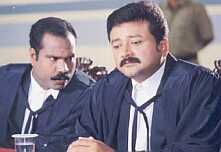 Suresh Peters also return with some hit numbers but will it be as chartbusting as Tenkassipatnam songs is yet to be seen.
The acting department has been handled well too. Jayaram and Samyuktha Verma goes through the role with absolute ease. Lal also puts in a spirited performace, and wonderful support from the rest of the cast.
Though there is a lot of big names in the movie, one must say that Jayaram tries his best to do a one man show in this movie trying to keep the movie up there and not sink in its own lunacy. So if there was a Dileep to save Tenkassipatnam, Jayaram too chips in with his bit to keep One Man Show going on.
I would not call One man Show a step forward for the makers of Tenkassipatnam, but they haven't disappointed us that much either. This movie is sure to keep the family audiences happy and laughing, and as long as they manage to do the money will keep flowing in.
The producers are happy, so are the audiences, who cares about comments from damn critics, rite??