Viji Thampy and Jayaram joins hands once again to bring you this entertainer about a man with many faces.
The story revolves around Ananthan (Jayaram), the so called heir to the princely property of the family. But he is also supposed to marry his cousin (murrapennu) Sridevi in order to qualify as a thamburan.
Now around this time a poor girl Hemalatha (Nandini)comes into the picture, and when her purse and money gets stolen, it is Ananthan who comes to her rescue and returns the bag, but he comes as a Police Commissioner.
Later, Hemaletha meets the same man but in various other ways- sometimes as a doctor, sometimes as a lawyer leaving Hemalatha a very confused person. So it is upto her to find out who the man really is.
Anyhow, after all the excuses for the comic situations, Hemalatha does fall in love with Ananthan.
Now the pressures for Ananthan to marry Sridevi is on the rise from the power and wealth hungry relatives of theirs. But Ananthu loves Hemalatha while Sridevi herself is in love with a doctor.
How these lovers overcome this problem forms the rest of the story!
The movie more or less belongs to Jayaram and Nadini does a fine job in supporting him. Jayaram is as comfortable as ever in this role, while most of the supporting members does a fine job.
After the wonderful performance in KARUMAADIKUTTAN, and now this movie, Nandini is certainly on the high clouds at present.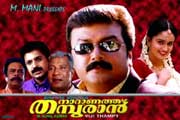 The movie might not be a must watch, but it is a pleasant comedy that is easily watchable and enjoyable!
There are a couple of good songs in here too, though they are not exactly the chart buster kind!
Viji Thampy does show that he still hasn't lost his charm when it comes to churning out some decent family entertainers, though now the man is busy more in the TV field!