Director Sathyan Anthikad is busy working on his new movie in areas around Vadekaancherry on his new family drama.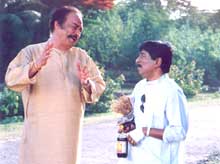 But what is interesting about this new movie is the rather strange and long name that he has opted for it...NARENDRAN MAKAN JAYAKANTHAN VAKA.
The movie has been written by the talented Sreenivasan and this team of Sathyan-Sreeni has always managed to come up with good family entertainers. Sathyan Anthikad somehow has been coming up with good movies and is having quite a good run at the box office so far.
THE STORY
The story is about Jayakanthan (kunchako boban) who comes to Kerala from Tamil nadu to collect the compensation that the Kerala Government has agreed to pay when his ancestral property is being acquired by the Govt. to build the new airport's runway over it.
However when he does land in Kerala, he realise that he is not gonna get anything soon as his compensation amount gets stuck in the bureaucracy red tape. He first has to sort out problems with the panchayat president Vinodini (Samyuktha Verma). And then there is local financer Bhargavan (Sreenivasan) who seems to have claimed the land already under his own name. Then there is the whole lot of those Kannur political bombings and violence. In comes the opposition party to cause havoc.
And to sort out most of the problems Jayakanthan finally has to rely on his friend from Kodambakum, Devasahayam (Parthiban) who lands in town. And thus Jayakanthan has to get over the obstacles laid down by the crooked Bhargavan and get back his property.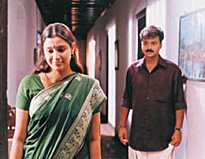 The role of Jayakanthan is being played by Boban Kunchacko who is expecting this role to get him out of the lover boy image. Because for the first time, we have him in a complete village role. And he has done a very good job, though he does not match the comic genius of many of the other actors around.
Samyuktha Verma once again comes with a good performance in the role of Vinodhini, though it does not require much from her. The other heroine, Asin is so-so.
Parthiban is a fine actor, no doubt. But really he wasn't needed at all in the movie. One wonders why they even thought of adding a character like that. Sreenivasan once again plays well a tailor-made role for him. And another impressive show comes from Cochin Haneefa too.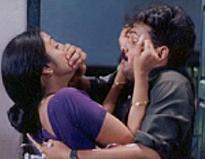 The movie is a light entertainer, but it does not manage to keep you engrossed all the time. There might be some fine characters, but not remarkable ones. Bottomline, both Sreenivasan and director Sathyan literally runs out of ideas to finish off their 'simple' tale, and soon the movie begins to get unnecessarily complex. Eventually, its is rather too lengthy for its own benefit.
Music by Johnson also is pleasing.
Actually if you take a close analysis, the movie does have everything from good locales, humor, music, acting, characters, dialogues, scenes. But on the final count, one can also see the movie lacks something. Maybe it is the want of a tighter script. Too many subplots creep in and eventually it just spoils the proceedings.
This is one of the movies that is good in its own way. But keeping in mind, the great movies that this team of Sreeni-Sathyan Anthikad has offered us, Narendra Makan Jayakanthan Vaka fails to live up to its expectations.