He could easily bask in the glory of the super-success of his directorial debut, Ravanprabhu for a long time to come. But Renjith means business and is out to prove his talents.
So though he has yet another big movie with Mohanlal on hold, he did not just sit around till the dates get instead. Instead he though of trying his hand at a small budgeted yet simple love story to keep him busy.
So off with the story he goes to his close friend, Siddique, who not only liked what he heard, but also agreed to co-produce the film with Renjith.
<![if !supportEmptyParas]>  
The story takes a typical ancestral 'tharavadu' as the backdrop where the story unfolds.
Manu (Prithvi Raj) is a Bangalore-based software engineer who is retuning home to bid farewell to his close ones before he leaves for his training trip to US. He is greeted by his dear mother (Revathi) and his darling grandmother (Kaviyoor Ponnama).
But it is here Manu meets the local maid girl Balamani (Navya Nair) and soon he finds himself to be falling in love with her.
<![if !supportEmptyParas]> <![endif]>Though from the plot it looks more or less like any other love story, director Renjith promises that it is one with a twist. And so he would not like to reveal any more of the plot.
The movie is already being much talked about not simply for it being directed by Renjith. But more importantly, we shall see a new talent being introduced into the industry.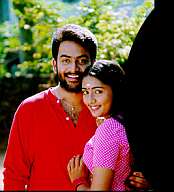 The new face is none other than the young son of late veteran Sukumaran, Prithvi Raj. Prithvi Raj looks all set to take the industry by the horns and all eyes are on this one.
Navya Nair, will play the central character of Balamani. This will be her third outing after Ishtam and Mazhatullikilukam.
Supporting the relatively new talents is a support cast that boasts of big names like Revathi, Innocent, Jagathy, Siddique and Kaviyoor Ponnama.
Raveendran shall be the music director while Azhagappan will take on the camera.
Now one has to just wait and watch whether the script writer, known for his fiery characters and dialogues, can cook up a decent love story?
<![if !supportEmptyParas]>