Years back Bala came up with a different and powerful film in SETHU which certainly changed things for the hero Vikram.
And now Bala is back with yet another film and this time he sing Surya, and hopefully this movie will do the same good that it did for Vikram.
Nandhaa's (Surya) depressing life begins right from childhood when one day he tries to save his mother (Rajshree) from his drunk abusive father during a quarrel. It results in Nandhaa killing his father, and being sent to a reformation school.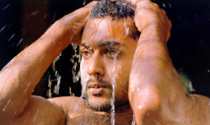 Meanwhile his mother still is traumatized by the rage of her son and begins to fear him, and also not forgive him for killing her husband. So even when Nandhaa returns from the remand home to see his mother, he is rejected by his own mother.
A confused and dejected Nandhaa is off to the streets where the kind but powerful Periyavar (Raj Kiran) takes a liking to the boy and takes the boy under his wings. So thus Nandhaa begins to be this man's right hand man, and a local goonda. But he still yearns for the love of his mother.
However he does find love in a Sri Lankan refugee gal Kalyani (Laila).
Meanwhile his godfather Periyavar ends up in the hospital where he is killed by his own son-in-law. Nandhaa learns about the truth and finishes off the killer. Moreover he is also let scot-free by the court due to lack of sufficient evidence.
But his mother is simply not happy with her son, and suddenly tries to trick Nandhaa by accepting him only with a plan to kill her own son.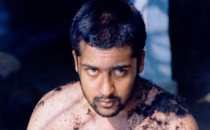 Director Bala seems to be the man who is determined to get into the league of top directors and insists on not following the routine path, and try to put in something fresh and different.
But it also would not be wrong to say that the man tries to use gloom as his strength in making the movies work. He puts in a lot of 'Sethu' of characterizations into this movie too. And then the ending, also looked a very much predictable one with the way things were heading.
And then many also would find glimses of 'Dalapathy' in here too with the relationship that we see between Surya and Raj Kiran.
However the mother and her characterization looked a lot forced. She seems to be afraid of the young boy who killed her husband to save her. Why? If it was an instant rage, it could be understood but how can the mother keep that hatred for all these years when it was all done to save her. And even if there is such a hatred, can it grow wild enough that the mother actually thinks of killing her own son??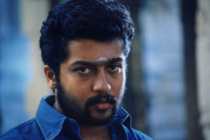 Surya wonderfully makes a transition into this broody action figure from his normal goody roles. Laila comes up also good enough here too, but then again she seems to be the same in every movie she does. And half way through the movie, Laila begins to forget that she is supposed to be a Sri Lankan tamil.
However the one who really threatens to steal the show however is Raj Kiran who as the local goon is impressive and dominating too. And then even Rajshree puts in a great performance as the rather 'strange' mother.
Good and exotic locales with some wonderful cinematography is also ably supported with some impressive background score and music by young Yuvan Shankar Raja.
A gripping tale though a bit melodramatic and with a lot of depression put in deliberately to get some desired effects. But still Nandhaa, though might not be a masterpiece, is still good and powerful cinema that deserves to be given a worthy look.