Rajasenan, director of several successful family flicks after trying movies with Dileep, Suresh Gopi and others actors once again return with Jayaram in yet another comedy entertainer.
However the big USP this time is that he has managed to include some notable figures from the tamil cinema industry into the list.
So MALAYALEE MAMANU VANAKUM will have Prabhu teaming up with Jayaram as we see a combination of the cultures of both Kerala and Tamil Nadu in this exotic mix.
Ananda mangala household is celebrating the engagement of the young Anandakuttan (Jayaram) to Revathi (Suja Karthika). But kuttan's mother (Sreevidya) makes a wish of seeing her daughter Anandavalli, who had left the house 20 years back with a tamilian. Though not many in the household were happy about the idea, eventually they agrees.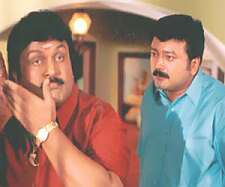 And so Anandakuttan and his uncle Keshu (jagathy) sets off to the village of Kovil petti in search of Anandavalli. But as they reach here they realize that Anandavalli's husband Muniandi Perumal (Kalabhavan Mani) is the richest and most feared yet respected man of the village.
And they manage to stay in the Perumal household and even meet Anandavalli. But here emerges another problem. Anadavalli's daughter Parvathi (Roja)'s marriage has been fixed with Kannaya (Prabhu). But Parvathi does not like the marriage.

And Anandakuttan decides to save her from this problem. And so Anadakuttan returns with Parvathi back to the Anandakuttan.
How will the people in the household take it? And what about Perumal and Kannaya?
In one way, you could say it is a journey back in time for the Rajasenan-Jayaram team. The last time they experimented with this Malayalam-Tamil lingo was in their first superhit together - Meleparambil Aan Veedu. Now inspite of several hits together, they team up once again to recreate the same magic of that one with this Malayalee Mamannu Vannakum.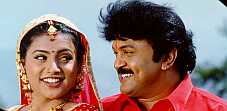 The film is a breezy entertainer and thankfully, the jokes do not go the slapstick way and keeps a touch of class most of the time.
Jayaram sails smoothly in his role, showing once again that he is still a comic genius to reckon with. Prabhu also puts in good noteworthy performance, well supported by Jagathy Sreekumar. Roja does impress but the same however cannot be said abou newcomer Suja Karthika who seems wanting in a lot of scenes.
But the real delight is once again Kalabhavan Mani who comes in a different shade as the old Perumal.
The song "Mamma Malayalee Mamma" might have become a hit but sadly, Suresh Peters fail to make good use of this opportunity where he could have come up with a chartbusting soundtrack.
One of the better Jayaram comedies that we have seen in the last few years and is sure to rake in the 'moolah' at the boxoffice! Another bumper hit for the duo of Rajasenan-Jayaram.