With the Kerala film industry facing severe crisis with the lack of quality cinemas over the years and the flopping of several big movies one after another, it was not so surprising that Asianet decided to get into the limelight by producing some small budgeted movies, that were safe bets.
But what Kamal has done is come up with one of the finest cinemas that Malayalam cinema has seen lately with his latest love story Megha Malhaar.
Drawing its inspiration from a short story by Iqbal Kuttipuzha, Kamal tells a very down to earth tale about two married people falling in love.
Rajeev (Biju Menon) is an advocate with a great fascination for ghazals. He is married to Rekha (Poornima Mohan), a bank employee.
However his life changes with him bumping into a well known writer Nandini (Samyuktha Verma). Strangely he keeps meeting Nandini co-incidentally every now and then.
Nandhini is married to Mukundan (Siddique) who is working in the gulf.
Soon we find that the relationship between Rajeev and Nandini growing strong and finally beyond just that of 'friendship'.
Also we come to realise that these two were once childhood friends.
Hats off to Kamal without a doubt for coming up with one of the finest love stories that the Malayalam film industry has seen for a while. Several mediocre films like Aniyathipraavu and Niram have tries to categorize themselves into that slot of great love stories. But Megha Malhaar definitely stands out strong from the rest of them all.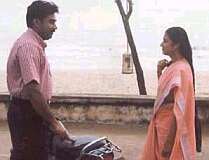 Kamal have taken a different love story and a rather sensitive subject of an extra-marital affair, and has done justice to it a great deal. He has stuck to the honesty and the sincerity that the film deserves making it a commendable effort. And this is definitely the best film he has done in the last few years, no doubt about that.
The so-called romantic pair of Biju Menon and Samyuktha Verma once again gives a great performance that comes with the chemistry intact. Both of them give memorable performances with ease. Both give that extra depth to their characters just like they did in their previous films like Mazha and Madhuranombarakaatu.
The movie made on a modest budget of around 30-40 lakhs was actually supposed to go direct to TV, and the movie will also be telecast in Asianet within another six months, probably for Onam or Christmas. And though the smallness of the budget is reflected in the visuals, Kamal's storytelling and screenplay, alongwith Beena Paul's editing does not bring our attention to such defects of the technical aspects of the film.
With Meghamalhaar being a ghazal raga, there is enough scope for music in this film and the music from Ramesh Narayan lives upto the requirements.
Kamal re-establishes himself and shows us why he is one of the best storytellers that the industry has today.