Dileep is the best thing that happened to the industry...atleast in the last one year or so. Ever since the man married actress Manju Warrier, and had a lead role with Lohitdas' JOKER, Dileep has been right at the top of the things. He is clearly sending warning signals to the so-called superstars of the industry with his performances and safe-winners.
But now, his latest release, MAZHATHULI KILUKAM, shot in the beautiful locales of Mercara and Coorg, turns out to be another winner, no doubt!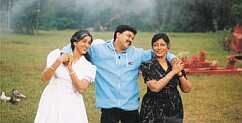 <![if !supportEmptyParas]>
  The movie is set in a mansion in Karnataka named "swargam". But the same cannot be said about things within the mansion. For here lives two retired teachers, Ammini teacher and Alice teacher(Sharda and Bharathi). And they are looked after the home nurse Sophia (Navya Nair) who imposes strict laws and rules on their lives. So these old ladies think their freedom is being denied. Other main characters in the estate includes the cook (Sukumari), her son (Cochin Haneefa) and the priest (Nedumudi Venu).
And at such a juncture, comes a young lad Solomon (Dileep). The man is like a fresh breeze in the lives of the teachers. And in his days at the "swargam" he tries to change things for the better as far as the teachers are concerned. And as the laws get broken, Sophia does not like it a bit.  And so Sophia takes on Solomon.
And eventually Sophia-Solomon turns from enemies to lovers. But the arrival of Solomon's sister at the swargam brings a new twist.
<![if !supportEmptyParas]>Actress Urvashi is making a comeback of sorts palying the role of Dileep's elder sister.
<![endif]>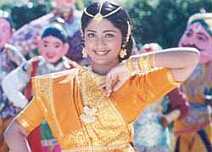 The movie is directed by a new duo team of Akbar and Aby Jose. The two were assistant directors with Kamal for a couple of years. And now they decide to try their hands on making their own flick, which is certainly promising.
Suresh Peters fail to live up to the expectations, but then again Suresh has definitely tried to give more importance to melody in these songs, moving away from his usual style. Probably the songs will end up growing on you.
Dileep has a role, and probably like every other movie-maker, scripts are being written with characters just to suit the image of Dileep. So most of his roles, Dileep fits into the glove perfectly.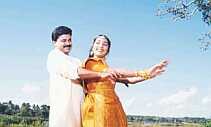 Navya Nair also puts in a good show as the lead heroine. But it is still the veterans like Sharada, Bharathi and Sukumari that steals the show and thunder.
The movie which is riding high at the moment, thanks to Dileep's image, turns out to be a breezy entertainer with a good mixture of comedy and dramatics to keep most of the viewers happy around Kerala.