Kamal has always managed to stay afloat with his movies and make it strike achord with the audiences, somehow, someway. And that is why, despite its gloomy backdrop and not the kind of entertainer one usually looks forward to, Madhuranombarakattu is gradually attracting an impressive response.
Vishnu, the main protoganst of this movie, is hit badly when his wife Priya gets arrested for murdering a man who tried to molest Vishnu's sister. However, life goes on and Vishnu opts for a transfer to another village to avoid the social humilation of those events.
So Vishnu takes his two kids to the new village to lead a peaceful life and on the advice of his newfound friend Shankar, he decides not to tell everyone what actually happened to his wife. But everything does not go off well, for soon Vishnu is faced with another tragedy as his son Unni dies in a car accident.
Vishnu with this shock, decides to hide the truth from his wife, and wait until the right time to come out with the truth.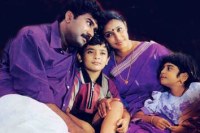 Much later, Priya does get her release from the prison and she comes down over to her new home to starts life afresh,. And here Vishnu is forced in a rather bad situation and has to gather up the guts to tell her the shocking truth. Life gets even more complicated with a ruffian Vasu coming into the picture to worsen things.
The touching story is well brought out thanks to the rather sensitive performance from the lead pair of Biju Menon and Samyuktha Varma. Finally, it is nice to Biju Menon to come out in a powerful role, and thankfully this time it is not as a second-lead like many of his earliers. The rest of the cast, including Master Aswin, Sreenivasan, Oduvil Unnikrishnan, KPAC LAlitha does not disappoint in any way.
The movie, based on a work by Reghunath Paleri, has been formed out well by director Kamal and ably supported by the music of Vidyasagar. A couple of these sopngs are actually stand-out elements.
Thus no matter what the underlining mood of Madhuranombarakattu is, it still is a movie that is worth watching , thus by which reconfirming Kamal's abilities when it comes to giving the audiences meaningful and powerful movie.