Mani Ratnam is a director, sorry...a talent that cannot be kept under wraps for long. And he is sure to come up with something different and smashing like always.
But though his last few movies - Iruvar, Dil Se, Alaipayuthey all haven't been great flicks like his earlier ones, these movies are still way better than the best movies of several other directors in the industry. This just goes on to show how talented the man is.
So with real high expectations, the industry greets the new Mani Ratnam movie which has a 9 year old kid as the center of the plot.
Madhavan and Simran, a pair we saw in the disastrous Parthale Paravasum, comes together yet again to prove that they can bring on some magic on screen.And thankfully, the Ratnam-Rahman team gets back together too, for bringing up some heart warming numbers.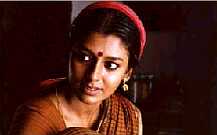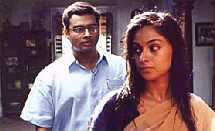 The story revolves around the young girl Amudha (Keerthana). A chirpy and bubbly girl who is the nucleus of a family that consists of papa Thiruchelvan (Madhavan), amma Indira (Simran) and two brothers. Thiruchelvan is by profession an engineer but he is also a well-known writer.
And her life was as smooth sailing with her and her family, and life to her was as normal as any other kid on the block. But things go wrong when her 9th birthday comes and Amudha learns about the fact that she was adopted by Thiru and Indira from the Red Cross.
Though the girl knows how much she is loved by her foster parents, Amudha still wants to know where her real parents are. So finally Thiru and Indira obliges to off they go to the jungles of Sri Lanka, searching for the girl's real mother by the name of Shyama.
Finally amidst bombs they finally meet the mother (Nandita Das) who is a hardcore LTTE extremist, and Shyama is not interested in meeting her child.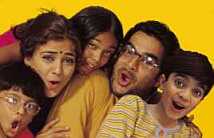 The real star of the show is undoubtedly the kid, Keerthana who steals your heart and Mani Ratnam has managed to get the best out of her. In a movie about human emotions and feelings, the kid really brings out everything you expect from her.
However the acting from the lead pair of Madhavan and Simran is also a revelation in itself.
Maddy easily gets into the character and that "loverboy" image soon becomes a thing of a past. Madhavan did mature a lot as an actor, though he might not be exactly convincing like say, in the 'Arvind Swamy' league. But still a very commendable effort.
And finally Simran after her success with Pammal K Sambantham returns with an equally well done job in this.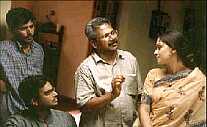 One must remember this movie is going to get dubbed into Telegu and Hindi too under the name "Amritha", so expect these performances to get noticed eventually, thus doing a lot of good for the cast members.
Also nice cameos from Nandita Das, Chakravarthy and Prakash Raj, but their characters aren't well defined.
Mani Ratnam has delivered an A grade product and he certainly hasn't gone with the usual commercial compromises, and still the movie remains a very commercial venture indeed. The songs arent' given the kind of importance, like you see in Dil Se or Allaipayuthey, but the Rahmanisque score does stand out strong.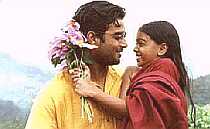 Mani Ratnam's A grade crew also gives solid support. Be it the background scores of A.R. Rahman, or the wonderful sets from Sabu Cyril...or even the visuals from Ravi K Chandran, its all simply magic.
I wouldn't say that this movie is without flaws. Again as we shift towards the Sri Lankan territory, the director almost makes the mistake of throwing everything the wrong way like he did with Dil Se. But sadly it does not create as much damage as you might fear, and the movie still finishes off on a rather decent note, inspite of the cliches.
Even if the movie might not qualify as classic to many, it still is a must-watch film from one of the best directors of the country.