The last time the team of Vinayan and Kalabhavan Mani joined hands, it caused a sensation of sorts with Kalabhavan Mani bagging a special award from the National Film Jury for his role as a blind singer in the movie VASANTHIYUM LAKSHMIYUM PINNE NJANUM. There was no denying that Mani delivered a role of his lifetime.
But now director Vinayan and the talented Kalabhavan Mani has teamed up once again to prove that the same magic can be repeated once again. In this Kalabhavan Mani takes up a challenging role of a mentally unsound man who tries to cope with his surroundings which gets more complicated as it can be.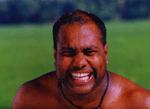 The movie is set in the Kuttanad region, and the character that Mani plays is the title one of Karumaadikuttan who is the son of a noble Thampuraty, who eloped with her slave lover. Though the two parents died an early death, he grew up thanks to his grandmother and the village people whose hearts has been captured by the simplicity of this mentally unsound boy.
Now Karumaddikuttan soon begins to fall in love with his cousin Nandini. However she still dislikes him and cannot even think of marrying him. Instead she does make fun of him, and ridicule him whenever possible.
Karumadikuttan and his grandmother has to face other problems too in the form of the rich guy, Neelakantan (Rajan P. Dev) and things just get worse when his son also returns to the village from the city. And the circumstances that follow forces Nandini to live with Karumaadi, and soon Nandini begins to see the gentler picture of the man and also brings about a change to his life.
But Neelakantan and his son has no plans to stop torturing them whatsoever.
And thus the movie takes us through the life of Karumaadikuttan and how he deals with his various ups and downs of life.
Director Vinayan does manage to bring once again the best out of Kalabhavan Mani and he has certainly given a much more well framed movie on comparison to his last venture, DADASAHEB.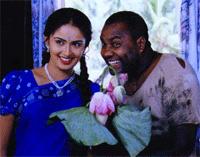 Kalabhavan Mani as expected comes with a thumbs-up performance and there is no denying that. He has certainly gone a step ahead to prove that his acting is not a mere mimicry performance but a whole-hearted effort and hard work. Actress Nandini and Bharathy also plays their respective roles well. But another actor who walks away with a fine performance is Rajan P. Dev as Neelakantan.
The music department is also quite good and we also have a typical Kalabhavan Mani-folk number for all his die hard fans.
Though Vinayan does tend to take the story a bit the commercial way, he certainly comes with a movie that is expected to win the audiences.
Write in and tell us what you think of this movie