Director Jayaraj is still winning awards from all over the globe and from within the country for his previous movies KARUNAM and SHAANTHAM.
But the man has already completed the shooting of his next movie, BHIMASTA and is now currently working on yet another project- KANNAGI.
But what is special about KANNAGI is that just like his mindblowing KALIYATTAM, this too is an adaptation of a Shakespeare play. So when KALIYATTAM was a version of OTHELLO, with KANNAGI director Jayaraj is hoping to recreate the magic of ANTHONY & CLEOPATRA.
However there is no Rome or Egypt over here. The backdrop will be a small village near Pallakad and Cleopatra will be a local village beauty by the name of Kannagi. This character will be played by none tther than the dusky beauty Nandita Das herself.
Lal came up with a mindblowing performance with KALIYAATAM, and one should remember it was the film that started it all for Lal. And now Lal gets the chance to play Anthony's character and obviously Lal is certainly an honoured man to play all these Shakespearan characters. However the great character of Marc anthony becomes Manikkan in this version.

The character of Octavia becomes Kumudham, played by Geethu Mohandas while the character of Ceaser from the original will be played by Siddique.
Siddique plays Ottenchella Choma while Manoj K. Jayan shall be his arch rival, Pollachi Gounder.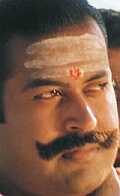 Like every Jayaraj movie, this one is being made on a shoe string budget of just 25 lakhs. And the movie is also expected to be wrapped up in a record 20 days!!!! Boy, movies are made really fast down south or what?

One of the assistant directors of this film is Sidharth, the son of the great director Bharathan. One should note that Bharathan was also Jayaraj's guru when it comes to directing.